A U.N. report that says China is allowing Iran and North Korea to collaborate on banned nuclear missile technology highlights the weakness of international efforts to stop the spread of weapons of mass destruction and presents U.S. officials with a dilemma.
Lawmakers, congressional staffers and former officials told The Washington Times there has been clear evidence for more than a decade of China's role assisting North Korea, Iran and Pakistan spread the know-how and technology needed to make nuclear-armed ballistic missiles that can strike cities a continent away.
"China has been helping … rogue states avoid the sting of sanctions," Rep. Ileana Ros-Lehtinen, chairwoman of the House Foreign Affairs Committee told The Times, referring to U.N. sanctions imposed since 2006.
China Tuesday effectively blocked the release of the U.N. report, produced by a panel of experts monitoring the arms embargo against North Korea. The incident "proves that international sanctions … are full of holes," the Florida Republican added.
Successive U.S. administrations have relied on China as a partner in efforts to curb North Korea's nuclear ambitions. As a permanent member of the U.N. Security Council, China is also one of the five global powers that ultimately decide how international sanctions against Iran and North Korea are enforced.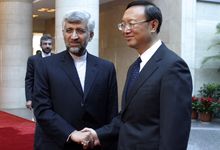 But critics charge that the Chinese have been playing a double game, winking at violations of the sanctions even as they signed up for them.
"It's been so blatant that even the United Nations, which is typically very cautious in its assessments, has now come out and said it," said one senior House staffer who has long followed the issue.
Now that China's double-dealing has been exposed at the U.N., U.S. officials must decide how to proceed.
"China's evident failure [to abide by its obligations under U.N. sanctions] should be a matter of great concern to U.S. officials," a Senate staffer said.
He said he hoped the issue would be raised during the talks between Chinese and U.S. military leaders under way this week in Washington.
The spokesman for the Chinese mission to the United Nations did not respond to a request for comment.
"There are smart people who say that China was responsible for making Pakistan a nuclear power in the first place," Sen. James Webb, Virginia Democrat, said Tuesday at a Senate hearing.
U.S. officials have long believed Pakistan got nuclear warhead designs from Beijing in the 1980s and then traded them to North Korea in the 1990's in exchange for North Korean-built ballistic missiles.
"The North Koreans were Chinese proxies in proliferating ballistic designs, components and missiles to Pakistan," said John Tkacik, a former head of China analysis at the State Department Bureau of Intelligence and Research.
Since 2006, both North Korea and Iran have been subject to multiple rounds of U.N. sanctions, which means any trade with them in nuclear weapons or missiles is illegal under international law.