A felon once imprisoned for fraud is raising money in the name of Herman Cain and profiting off of it through a company he owns. It is the second group raising large amounts of Cain cash that has a history of collecting millions of dollars through politically charged mailings and spending hardly any of it on politics.
Draft Herman Cain is the latest from two California men who have raised tens of millions of dollars cashing in on causes such as breast cancer and illegal immigration, with little to show for it except payments to fundraisers and themselves, an analysis by The Washington Times shows.
Randy J. Goodwin, its treasurer, also heads the Republican Majority Campaign (RMC), which raised $3.8 million from donors last election cycle yet gave only $15,600 to candidates and spent $105,000 on advocacy.
He and disbarred lawyer Charles F. Benninghoff III last week began gearing up for what could be a sizable fundraising campaign, paying for lists of likely donors and making payments to Grassroots Campaign Creator, one of a multitude of Internet and political entities that Mr. Benninghoff owns.
A series of other political action committees (PACs) tied to the men, according to the analysis, has collected money from ideological donors and plowed it into those companies and into their personal bank accounts. The organizations have raised money by casting a wide net with exclamation-filled missives tapping into tea party anger along with barrages of telemarketing calls.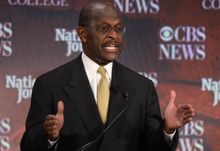 Despite the name,Draft Herman Cain kicked into gear after Mr. Cain already entered the race and came on the heels of an effort by the same men called Draft Sarah Palin, which reported running no ads. Other Goodwin efforts that drew contributions but no political activity include the Breast Cancer Awareness PAC.
Ninety-two percent of the money raised by the Republican Majority Campaign last cycle went to an Arizona telephone fundraising firm known as Political Advertising, which has received $12 million from four little-knownconservative groups in recent years, the analysis found.
Mr. Goodwin acknowledged that when people nationwide received phone calls from RMC asking for moneyto support conservatives, their donations went almost entirely to allowing more of those same calls to be made. But he defended the practice by saying, "It is going to allow the message against Obama to be distributed."
In recent years, his PACs also paid hundreds of thousands of dollars to himself, Mr. Benninghoff and his wife, and companies that the Benninghoffs own. On the rare occasion a Goodwin group sends money to political groups, it often goes to other funds he controls.
Those include a nonprofit called the United States Justice Foundation, of which Mr. Goodwin is an officer. The organization took in $4 million in contributions in 2009, most of which went to direct-mail firms used by the political groups. It appears to spend little except to pay RMC's top staffer, Gary Kreep, an additional $174,000, according to documents filed with the Internal Revenue Service.
Draft Herman Cain also has paid RMC to rent its list of donors. The transfer of those names is crucial to the business, and those sending solicitations off of the same list often will use different names so the recipients don't realize they are giving to the same people.
'Sucker' list?
About $300,000 went to Diener Consultants, a Pennsylvania firm without a working phone, to obtain a list of "reliable donors." The names on Diener's lists appear to be easy pickings for anyone who sends a tea party-themed mailer.
Diener's other major client, AmeriPAC, raised $4 million last election cycle, nearly all of which went to the consultant, Political Advertising and PAC officials. AmeriPAC donated $49,000 to candidates and ran $27,000 worth of ads. Diener also has done work for a smattering of committees connected to former presidential candidate Alan Keyes, such as the Minutemen Alliance, which have raised millions of dollars with little to no money spent toward effective political ends. Mr. Goodwin denied any connection between the Justice Foundation and the Minutemen groups, but The Times obtained joint fundraising solicitations between the foundation and the Minutemen.
It often is the same people giving to each of these seemingly unrelated groups, all connected to a few consultants and all of which spend little on politics, the analysis by The Times showed. The donors are not political powerhouses, but rather middle-class tea partyers, including those who only recently became acquainted with the political world. Their most common occupation is retiree, records show.