The teen birthrate tumbled again in 2010, reaching a historic low and stretching across all age and ethnic groups, the federal government said Thursday.
The 9 percent decline in the teen birthrate was "the largest single-year decline since 1946-1947," said Brady E. Hamilton, one of the co-authors of the National Center for Health Statistics' preliminary report on 2010 births.
When the 2010 decline is added to the one in 2009, it comes to an "attention-grabbing" 15 percent decline in the teen birthrate in two years, said Bill Albert of the National Campaign to Prevent Teen and Unplanned Pregnancy.
"If this nation has made progress on other difficult social issues of this magnitude, I'm simply unaware of it," he said.
In addition, the rise in births to unmarried women has stalled, as the percent of all births to single women fell slightly to 40.8 percent.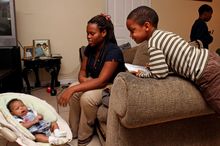 These declines in teen and unwed births are welcome news to many advocacy groups. However, these declines are part of a national reduction in childbearing, NCHS data show.
In 2010, America's total fertility rate slipped to 1.93 births per woman, below the optimal 2.10 rate to maintain population.
Birthrates fell in all age groups except one: The rate for women ages 40 to 45 ticked up from 10 births per 1,000 women to 10.2 births.
The news about the teen birthrates likely will be well-received because these births were typically out of wedlock and linked to welfare use, poverty, poor school outcomes and other hardships for women and children. The report found that birthrates fell among all races and teen age groups, including the 10- to 14-year-old group, which dropped to a historic low of 0.4 births per 1,000 girls.
Birthrates fell or remained stable in all states and the District of Columbia.
The reasons for the decline in teen births are multifaceted; however, it's important to first "give credit where credit is due, and that's to teens themselves," Mr. Albert said. They have "obviously changed their behavior and are making more responsible decisions about both today and tomorrow, and for their children," he said.
For instance, most teens now postpone sexual intercourse until they reach age 18 or 19, and when they started having sex, they typically use birth control.
This pattern, seen since 2002, reflects "a significant long-term decline" in the past 20 years, said NCHS researcher Gladys Martinez, whose October report used data from several cycles of the National Survey of Family Growth.
Also, once teens became sexually active, 78 percent of girls and 85 percent of boys said they used contraception - typically a condom - at "first sex," and even larger numbers [-] 86 percent and 93 percent, respectively - said they used contraception at "last sex."
The falling teen birthrates also may be influenced by education, career goals, the difficult economy and family structure. Studies have shown that higher education and labor-force participation are strongly associated with lower fertility in women, and coming of age in stressful times - during wartime or in a big recession - can impact childbearing, another NCHS study said this year.
Family structure is also important. States such as Minnesota and Utah, which have high levels of two-parent married homes, have low levels of unmarried teen births, Family Research Council scholar Patrick Fagan said Thursday at the release of the second annual Index of Family Belonging and Rejection. The converse is true for Mississippi and New Mexico, which have low levels of intact families and high levels of unmarried teen births.