DENVER — A fast-moving blizzard unloaded a foot of snow on the Denver area Tuesday night just as Colorado voters were dumping cold water on President Obama's re-election strategy.
Coloradans overwhelmingly rejected Proposition 103, a statewide ballot measure that would have increased the sales and income taxes to fund education. The lopsided outcome — the initiative lost by a margin of 64 percent to 36 percent — upended predictions that the measure probably would lose but that the vote would be close.
While they were at it, voters shot down anything that could pick their pocketbooks or cost them jobs, including school bond measures and a Denver proposal requiring businesses to give employees sick leave.
The Denver Post called the Election Day results "a killing field for tax measures." The implications were not lost on most political analysts, who noted that a tight-fisted electorate, still feeling pinched by the economy in 2011, could spell trouble for Democrats in 2012.
That includes the biggest Democrat of them all, Mr. Obama, whose campaign has made winning Colorado a crucial piece of its re-election patchwork.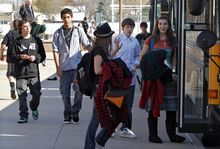 "Tuesday's thumbs down on higher taxes, even with the emotional appeal of schools behind them, is one more sign that Colorado has cooled off on the kind of tax-and-spend big government that Obama represents. And that's not a good sign for Democrats in 2012," said John Andrews, director of the Centennial Institute at Colorado Christian University.
Another barometer for the 2012 election comes next week, when voters in a slew of other states go to the polls. While several states are considering low-level revenue raisers such as highway bonds, nothing on the Tuesday ballot matches the ambitions of Proposition 103.
The Colorado measure would have raised the state income tax from 4.63 percent to 5 percent and the state sales tax from 2.9 percent to 3 percent, both for five years, resulting in an estimated $3 billion for public schools and higher education.
Democrats rejected descriptions of Proposition 103 as a referendum on the economy or a harbinger of 2012. The measure was proposed during an off-year election with typically lower turnout on a ballot that was otherwise devoid of big names or races, Colorado Democratic Party spokesman Matt Inzeo said.
"We certainly see this as an isolated case. This was a ballot initiative that until a few weeks ago had very little visibility," he said. "I would hesitate to draw too many sweeping conclusions."
Democrats note that Mr. Obama has drawn enthusiastic crowds during his two recent visits to Colorado. "The message the president is delivering [on jobs] is receiving the same kind of positive reception that it's receiving everywhere else," Mr. Inzeo said.
Mr. Obama's victory in 2008 has been attributed in part to his ability to expand the electorate by drawing in new voters. While analysts agree that voter turnout will surge in 2012, the election results from 2010 and 2011 increasingly paint a picture of voters frustrated by the slumping economy.
Almost 1 million voters cast ballots in the Proposition 103 race, while more than 2 million voted in the 2008 presidential race. The president carried Colorado by a margin of 54 percent to 45 percent.
"Democrats are saying, 'We will change the electorate,' but the problem is every Democrat is advocating more spending or increased taxes," Denver pollster Floyd Ciruli said. "And in this swing state that Obama says is essential to his election chances, that message is not selling."
Colorado state Sen. Rollie Heath, the Boulder Democrat who sponsored Proposition 103, agreed in his concession speech Tuesday night that the tax hike was an idea whose time had not come.