The Capitals were happy to snap a four-game skid. Happy enough to play the victory music, happy enough to have some smiles.
But not too happy.
"There's a little bit of sarcastic energy in the room," defenseman John Carlson pointed out Monday night. "Obviously, this is a huge win for us. But I think it's a little bit of sarcasm. Everyone really overjoyed, but we know that tomorrow we got to get back to work and we got to continue what we're doing."
Sarcastic energy? Perhaps Roman Hamrlik put it best on Tuesday when asked about the most recent win.
"I don't think we should be satisfied," he said. "We got two points, but there's still lots of things we can do better."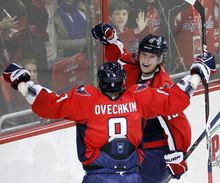 Skid over but no winning streak (yet), that's the mood around the Caps going into Wednesday night's game against the Winnipeg Jets, the same team that whipped them last week.
"It's just a step in the right direction but it's not our eighth win or anything in a row," defenseman Karl Alzner said. So we need to start stringing some together."
Despite an impressive comeback against a stingy Phoenix group, the Caps' focus is on the losing – on what they did wrong for over a week as they couldn't buy a break. Coach Bruce Boudreau is a proponent that playing "the right way" earns breaks, which is what happened against the Coyotes.
But Alzner said he and his teammates watched film of the win and even saw things that need work.
"It was lots of good things, but there's still a few things that we need to avoid and play better defensively," Hamrlik added. "Over the years I play on good teams, and when you play good defense, it give you good offense. I think we have lots of things to work on on the defense and neutral zone. I think that's our biggest issues right now, and that's why we were not so successful on the road trips."
Success has been hard to come by lately, which is part of why the the Caps are so reserved. Players remember the 4-1 loss in Winnipeg and the 7-1 loss in Toronto all too well.
"We're one bad game away from winning one in your last six or something. It's not a good way to look at it," veteran right wing Mike Knuble said. "But you got a loss to Winnipeg in Winnipeg fresh on your mind, and you have a chance to at least even that season series. It just does a lot of things to lighten the room – make the game fun again."
It wasn't fun around the Caps during the mini-losing streak, and Boudreau even said the mood wasn't "light." And while it has been lighter since it got snapped, don't think the Caps are throwing any parties right now,
"I think we've got to be consistently good all the time if we want to be a good team. Anybody can do anything once," Boudreau said. "We've got a lot of games left. We get too excited about one win, then we're in trouble."