Democrats hear stirrings from a 'dead' Old Virginny
Party now clings to power won in 2008
The day after Barack Obama in 2008 became the first Democratic presidential candidate to carry Virginia since Lyndon B. Johnson more than 40 years earlier, Gov. Tim Kaine, one of Mr. Obama's earliest supporters, gleefully proclaimed, "Old Virginny is Dead!"
Democrats had taken control of the state's two U.S. Senate seats. They gained a 6-5 majority in the state's congressional delegation and controlled the Virginia state Senate.
What a difference three years makes.
Virginia Republicans took the top three statewide offices in 2009 and now hold an 8-3 advantage in the U.S. House delegation after knocking off three Democratic members of Congress in last year's midterm elections.
On Tuesday, the GOP has the opportunity to regain unfettered control in Richmond for the first time in a decade — and only the second time since the Civil War — should they pick up at least three seats in the state Senate, which Democrats currently control by a 22-18 margin. A net gain of two seats would give the GOP effective control of the chamber, since Republican Lt. Gov. Bill Bolling casts tie-breaking votes, and they already hold a sizable majority in the House of Delegates.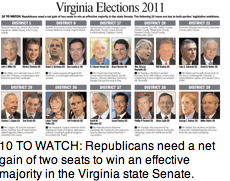 Gov. Bob McDonnell, whose agenda, ambitions and legacy could ride on Tuesday's vote, said he is confident that his party is appealing to Virginia voters who will elect a Republican majority to the Senate.
"What I do know is that the enthusiasm and intensity ... [favor] the Republicans," Mr. McDonnell said. "You know, if we get to 20 [seats] I'd be happy. But if things break right, we could do better."
McDonnell's agenda
Mr. McDonnell, characterized by Democrats during the 2009 gubernatorial campaign as a right-wing culture warrior, in his first two years in office has not pressed lawmakers to decide on divisive issues — except perhaps for his plan to privatize the state's liquor stores. Instead, Mr. McDonnell has pursued achievements in economic development, job creation, transportation and higher education, a moderate political agenda that has propelled him to some of the highest job-approval ratings of any governor in the country.
He secured $54 million for economic development and $100 million for higher education in the past legislative session, and he won passage of a $3 billion transportation package — the largest one-time shot of transportation money that the perpetually traffic-congested state has seen in 25 years.
But the Democrat-led Senate thwarted some of his other plans.
An optional defined-contribution plan for the state workers' retirement fund stalled in the Senate Finance Committee — three times — and a budget amendment proposed by Mr. McDonnell to establish one was defeated.
Sen. Mary Margaret Whipple, Arlington Democrat, cited Mr. McDonnell's education proposal last year as another example of a measure that could make it through a Republican-led Senate. The plan, similar to school vouchers, would give tax credits to businesses providing scholarships for low-income students to enroll in private schools.
Priorities like shoring up the $18 billion in unfunded liabilities in the state's pension fund, pursuing K-12 education reform and developing a comprehensive energy policy "all will be a little easier if we have fiscally conservative Republicans in both houses," said Mr. McDonnell, whose Opportunity Virginia PAC has doled out $3.6 million to help support Republican candidates.
Democrats, meanwhile, have made the need for a balanced General Assembly a campaign theme, highlighting GOP-backed legislation and budget priorities that routinely pass the House but are killed in the Senate to demonstrate to voters what is at stake on Tuesday.
"What we have proven is that the legislature and the entire state government has worked very well over the past four years with a Democratic Senate and a Republican House and both a Democratic and Republican governor," said Sen. George Barker, Fairfax Democrat, who is locked in a tight race with Republican Miller Baker. "All you have to do is look at the budgets and the legislation that have passed the House of Delegates to see what the laws would be in Virginia."
Just in the past year, such legislation included banning illegal immigrants from attending public colleges and universities, and supporting a constitutional amendment that would allow federal law to be repealed if two-thirds of the states concur.
Last year, the Republican-led House wanted to cut $700 million from public schools — a proposal headed off by the Democrat-controlled Senate, Mr. Barker said.
"That would have been devastating to schools in Northern Virginia and throughout the commonwealth," he said. "That's the type of thing that would be at risk if we have single-party control. We need to protect our schools, not decimate them."
Fending off the tea party
If Republicans take control of the General Assembly's upper chamber, controversial legislation cracking down on illegal immigration, restricting abortion and expanding gun rights that routinely die in the Senate could end up on Mr. McDonnell's desk.
That would present Mr. McDonnell, consistently mentioned as a possible vice-presidential pick, with some tough decisions, said Lowell Feld, founder of the blog Blue Virginia.
"Let's just say a raft of tea party legislation comes to McDonnell," he said. "Does he just sign it all? Politically, is that what he wants to do? Or is he going to veto it? Or head it off at the pass?"
Mr. McDonnell also will be attempting to sell lawmakers on his biennial budget, which he will present to the assembly's finance committees next month against the backdrop of a rocky economic picture. The two-year budget cycle in Virginia presents the governor, who by law cannot serve two consecutive terms, the best chance to build a legacy.
Cliff Schecter, president of the public relations strategy firm Libertas LLC and a longtime Democratic consultant, said his own state of Ohio is a prime example of potential consequences of one-party control. For example, a high-profile ballot measure seeking to overturn a law curbing the collective-bargaining power of public employees — a measure championed by Gov. John Kasich, a Republican — will also be up for a vote on Tuesday.
Wisconsin underwent a historic recall election in August after the GOP approved Gov. Scott Walker's measure to strip public employees of collective-bargaining rights, though Democrats ultimately failed to gain control of the Senate.
Mr. Schecter said the 2010 Ohio governor's race soaked up so much of the focus that little was left for other offices, such as the state Senate and state House — both of which help determine state legislative districts.
"That's going to cost Democrats over the next decade," he said. "The point is, some of the less sexy races often get forgotten. Look at what happened in the end. They lost the governor's race, and they lost everything else. And then Virginia's looking at that now, too. Especially in an off-year election, you need to remind people where Bob McDonnell and Eric Cantor ... got their start — what the implications are for people who are going to run for statewide or national office."
Stay the course
Regardless of the outcome Tuesday, Mr. McDonnell said, he will keep doing what he's been doing and will address hot-button issues as they arise.
"For me, I'm going to be doing the same things I did the last two years I did the first two, which is talking about jobs, economic development, government reform, energy, transportation, higher ed, K-12 — that'll be my focus," he said.
"Now look," he said, "I'm a fiscal and a social conservative. I'm pro-life, pro-family, and there will be some things we can do to promote stronger policies in those areas. ... I can't speculate on what might come to the desk, but the focus will be the same things it has been the last two years."
Still, with full control could come heightened expectations, said former Virginia Gov. L. Douglas Wilder, a Democrat.
"He's got more of a burden on him to produce, but he'll have less time," Mr. Wilder said. "He'll only have two years to be called upon to do it. He's in a position to propose some possibilities if the economy turns around."
Also on the line is a potential preview of 2012, when Mr. Obama looks to Virginia as a key state for his re-election bid and presumptive nominees for U.S. Senate — Mr. Kaine and George Allen, a Republican — likely will engage in one of the most closely watched, expensive U.S. Senate races in history.
"That's what Democrats need to be saying to people," Mr. Wilder said. "The wrong message being sent now could result in defections next year."
"There's going to be a lot for us to sit back and look at," he said with a chuckle. "It's going to be interesting."
© Copyright 2014 The Washington Times, LLC. Click here for reprint permission.