Libya's interim leadership on Monday elected an electrical engineering professor who has taught in the United States as the country's new prime minister.
Abdurrahim el-Keib, a member of the revolutionary Tripoli Council, received 26 out of a total 51 votes from the provisional National Transitional Council. He beat out four other candidates and is expected to appoint a Cabinet within days.
Mr. el-Keib replaces U.S.-educated Mahmoud Jibril, who stepped down from the post in the face of growing criticism from his revolutionary colleagues. Neither Mr. Jibril nor NTC Chairman Mustapha Abdel-Jalil ran for election.
Mr. el-Keib said in a news conference in Tripoli that his priority will be to build a nation that "respects human rights."
In a recent phone interview with The Washington Times, Mr. el-Keib said Libya's new leadership will face a number of challenges as it begins to run the country ruled for four decades by Moammar Gadhafi.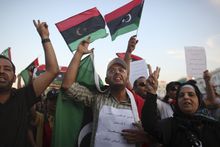 "One of the challenges is to rebuild the country that has been under the oppression of the tyrant for 42 years," he said.
Mr. el-Keib's government faces the challenge of ensuring security in Libya by uniting various rebel and pro-Gadhafi factions and taking control of weapons that have flooded the country over the course of the eight-month revolution. The government also will oversee the drafting of a new constitution.
Mr. el-Keib was optimistic about the abilities of the revolutionaries to do the job.
"The good news is that we have the will and the financial resources to take care of the challenges," he told The Times.
Mr. el-Keib taught at the University of Alabama, North Carolina State University, the University of Tripoli, American University of Sharjah and more recently at the Petroleum Institute in the United Arab Emirates.
He spent most of his life outside Libya because of his opposition to the Gadhafi regime.
According to Libyan revolutionary plans, a transitional government must be in place within four weeks after the declaration that the country has been liberated.
Elections to the national assembly must be held within eight months of this declaration. The council is not an elected body.
The council declared Libya liberated on Oct. 23, three days after Gadhafi died in the custody of revolutionaries in his birthplace, Sirte.
The council has said it will investigate the circumstances of the death of the dictator, who was seen in cellphone videos alive in the custody of the revolutionaries and later dead from gunshot wounds.