Medical-pot users fuming over ATF's gun-sale ban
DENVER — You can have your gun, or you can have your medical marijuana. But the Obama administration now says you can't have both.
The Bureau of Alcohol, Tobacco, Firearms and Explosives is in the crosshairs for a recent memo prohibiting gun merchants from selling firearms to anyone who uses marijuana, including those with state-issued medical-marijuana cards.
An open letter dated Sept. 21 from Arthur Herbert, ATF assistant director for Enforcement Programs and Services, said that, "any person who uses or is addicted to marijuana, regardless of whether his or her State has passed legislation authorizing marijuana use for medicinal purposes, is an unlawful user of or addicted to a controlled substance, and is prohibited by Federal law from possessing firearms or ammunition."
That didn't sit well with Montana Attorney General Steve Bullock, who fired off a letter this week to Attorney General Eric H. Holder Jr. saying that the policy raises "serious legal issues under the Second Amendment, and the Equal Protection and Due Process clauses of the Fifth Amendment."
The conflict illustrates the contradictory state of affairs between the states and federal government on the subject of medical marijuana. Sixteen states and the District of Columbia have passed medical-marijuana laws, a situation the Justice Department has agreed to tolerate despite continuing to enforce federal laws banning marijuana use.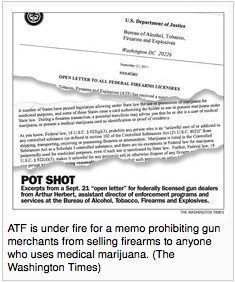 Where the agency draws the line is often a source of confusion. The Sept. 21 letter was issued in response to gun sellers who asked the agency for guidance because buyers were showing them medical-marijuana cards as identification.
Mr. Bullock blasted the ATF for failing to consult with state officials before issuing the directive, saying a cooperative approach "would be much better than the type of unilateral proclamation represented by the ATF letter."
Critics contend that the law unfairly discriminates against marijuana users because patients who take other controlled substances, such as OxyContin, have no such restrictions. In his letter, Mr. Bullock pointed out federal law allows those who are prescribed controlled substances by a physician to possess or buy firearms and ammunition.
"The ATF letter does not take this into account," said Mr. Bullock, who called on the department to work with the states in "exploring a reasonable solution to the problems created by the Bureau of Alcohol, Tobacco, Firearms and Explosives letter."
Mr. Herbert states in his letter that marijuana, as a Schedule 1 controlled substance, cannot be prescribed under federal law, "even if such use is sanctioned by state law."
The policy puts gun dealers in a difficult position, say critics.
Potential gun buyers must state on an ATF form whether they use marijuana at the time of sale. If they answer "yes," they are denied the purchase, but even if they answer "no," the seller cannot complete the sale if there is "'reasonable cause to believe' that the person is an unlawful user of or addicted to a controlled substance," according to the directive.
"The dealers have no way of knowing whether someone smokes pot unless they come in toking," said Gun Owners of America executive director Larry Pratt. "It's just one more way to aggravate the dealers and play 'gotcha' with the dealers. They [the ATF] are totally out of control."
In an editorial this week, the Denver Post blasted the directive, calling it an "assault on constitutional rights." Colorado voters legalized medical marijuana in 2000.
"[U]sers of medical marijuana are faced with two choices: pass on gun ownership or illegally lie about their use of marijuana," the Post said. "Unbelievable."
View Entire Story
© Copyright 2014 The Washington Times, LLC. Click here for reprint permission.