The foundering economy has left Americans consumers listless and frustrated with many unwilling to splurge at the malls and unable to take advantage of the lowest mortgage rates on record to buy a house or improve their finances.
Reports out Wednesday showed that growth in retail sales came to a near halt last month amid a major loss of confidence spawned by turmoil in the financial markets and a monumental fight in Congress over the budget deficit. The collapse in spending occurred even before news Sept. 2 that employers stopped creating jobs in August.
While consumers are understandably reacting to bad news about the economy, their response can be self-fulfilling because consumers normally drive about 70 percent of economic activity. Economists said their pullback only worsens the economic outlook.
Chris. G. Christopher, an economist with IHS Global Insight, said a vicious cycle already appears to be taking hold, particularly with respect to the jobs market, which is the most sensitive issue for consumers.
"The economy is in a Catch-22 situation: Companies will not hire at a faster rate until they see consumers spending more, and consumers will not start spending until the employment situation improves."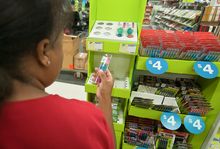 To him, the Commerce Department's report Wednesday that retail sales grew by a barely perceptible 0.04 percent was proof that "the economy has stalled" and is in danger of succumbing to such a downward spiral.
In further evidence that consumers are in full retreat, the Mortgage Bankers Association reported Wednesday that consumers barely responded last week to stunning drops in the average rates for 30-year and 15-year mortgages to 4.17 percent and 3.40 percent, respectively — the lowest levels on record.
Applications to refinance mortgages ticked up by 6 percent, the association said, but remained nearly 30 percent below levels of a year ago when rates also were approaching unprecedented lows.
A major reason, analysts say, is that one-third to one-half of homeowners are unable to refinance because they owe more on their mortgages than their homes are worth or have minimal home equity, putting them in the frustrating position of being unable to take advantage of the low rates.
That means ultralow mortgage rates no longer suffice as they did in the past to enable consumers to pay down their debts and free up cash and spending power so they can make other purchases.
Cash-out mortgage refinancings fueled a major consumer spending boom in the past decade, but now consumers are snowed under by the debt they accumulated.
"The most important driving force for our current economy is that people will not increase their spending until their balance sheets are repaired and their houses are no longer underwater," said Dean Croushore, an economics professor at the University of Richmond.
The huge debt overhang from the past decade's housing boom and bust is something "the government is not able to fix, so we should expect slow economic growth for several years to come," he said.
Mark Vitner, an economist at Wells Fargo Securities, said the consumer shutdown last month was unexpected and shocking.
"Zero point zero. It doesn't get much slower than that," he said, noting that it affected retail outlets as well as department stores, gas stations and auto dealers.