ANALYSIS/OPINION
Facing his old team for the first team since it traded him away, Redskins halfback Tim Hightower had extra motivation to have a big game Sunday.
Throw in the fact that last week's performance left much to be desired — a mere 2.9 yards per carry — and Hightower had another reason to prove himself. We just didn't know he'd have another runner to help him.
Hightower did his part in establishing the ground game and softening the Arizona Cardinals' defense in Washington's 22-21 victory, demonstrating the same downhill, power-running style that was so impressive during the preseason. He had rushed for 83 yards by halftime, helping the Redskins to a three-point lead.
But another story line was building steam at intermission: rookie Roy Helu's emergence as an all-purpose threat. After Hightower took every handoff except one in the season opener, coach Mike Shanahan decided to expand Helu's role in the offense - though it wasn't exactly planned.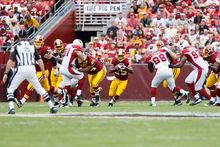 "You can kind of see on the sideline when somebody gets tired or loses a little bit of his zip," Shanahan said after Helu accounted for 112 yards from scrimmage.
"One of the reasons we drafted him, and we were hoping we could get him when we did, was his big-play capability," Shanahan said. "He's extremely fast, and you could see it out there. You give him a yard, you give him a foot, and he's got the chance to break the big play. It's always nice to bring in a guy that's fresh when Tim gets a little bit tired. It's a different type of back for the defense."
Hightower finished with 20 carries for 96 yards, and Helu had 10 rushes for 74 yards. That's the sort of one-two punch that can give defenses fits and keep each back from wearing down. It's also the sort of ground game that has defined Shanahan, who certainly wasn't pleased with the Week 1 production.
Shanahan and other coaches insisted that Hightower just missed breaking some long runs against the New York Giants. They also stressed the importance of sticking with the run, even when yardage is scant. To their credit, the Redskins didn't abandon the run Sunday, exhibiting near-perfect balance in the first half - 20 rushes and 21 pass attempts - and finishing with a heavy dose of Helu.
"We made it a point this week to make the running game our staple on offense," fullback Darrel Young said. "Any time you have coaches who believe and coaches who believe, you've got to get that thing going. It opens up everything."
Hightower said last week that he doesn't like coming off the field, and he certainly isn't looking forward to the type of situation that existed in Arizona, where he shared carries and eventually became expendable. But if Hightower harbored any resentment after Helu had more second-half carries (six to his five), it wasn't evident.
"That's just good coaching," Hightower said. "Just like in basketball, when someone has the hot hand, you go with them. As much of a competitor as I am, at the end of the day, I like to win. I don't care whether it's me, Ryan Torain or Helu."
Hightower's knowledge of Arizona was helpful during the Redskins' first drive (which, unfortunately, ended at the Cardinals' 6-yard line after Rex Grossman threw his first interception). Hightower engaged Arizona safety Kerry Rhodes, who was blitzing on a third-down incompletion, and egged him into an unnecessary roughness penalty.
"That was me being me and getting under those guys' skins," Hightower said. "I practiced with those guys for three years so I know exactly who I can press what buttons on. I got the outcome I needed."
There were several skirmishes throughout the game, with pushing and shoving going on after the whistle, as if Hightower's emotion had overtaken the entire team. It probably didn't go unnoticed amongst his former teammates that Hightower predicted a Washington victory.