ORLANDO, Fla. — Former Massachusetts Gov. Mitt Romney pressed his attack Friday on conservative concerns over presidential rival Rick Perry's support of favorable tuition rates for some children of illegal immigrants, hitting the three-term Texas governor's claim that critics of the law are simply heartless.
"I think if you are opposed to illegal immigration, it doesn't mean that you don't have a heart," the former Massachusetts told a gathering here for a Conservative Political Action Conference. "It means that you have a heart and a brain."
Mr. Romney again called for a fence along the southern border with Mexico to staunch the flow of illegal immigrants, additional troops and law enforcement personnel along the border, and for ending the "magnet" that draws illegal immigrants here — the employers who hire illegal immigrants and the states, such as Texas, that offer taxpayer-funded benefits for people who are here illegally.
"One of the things I still can't get over is the idea that a state would give a $100,000 discount to illegals to go to school in their state," he said, suggesting the subsidy carries an annual price of $22,000 per student. "It is simply wrong to create that kind of magnet. It cannot be sustained."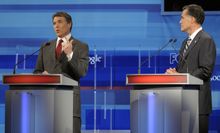 The attack came just hours after the third Republican debate in as many weeks, where nine candidates squared off. Mr. Perry, who leads the GOP polls nationally and here in Florida, again found himself the main object of attack onstage, coming under repeated fire from his rivals, particularly over the Texas policy that allows illegal immigrants to receive in-state tuition rates at public colleges and universities.
Mr. Perry, though, refused to back down.
"If you say that we should not educate children that have come into our state for no other reason than they've been brought here by no fault of their own, I don't think you have a heart," he said, eliciting some boos from the thousands of party faithful in attendence "We need to be educating these children because they will become a drag on our society."
He also refused to endorse building fence along the southern border.
"The idea that you are going to build a wall, a fence for 1,200 miles and then go 800 miles to Tijuana does not make sense," he said, calling for additional enforcement boots on the ground.
Minnesota Rep. Michele Bachmann kicked off the morning speeches at the CPAC event Friday by casting herself as the candidate who best embodies the national security, fiscal and social strains of the conservative movement.
She also took a swipe at Mr. Perry's immigration law.
"As president of the United States, I will build a fence on our southern border against illegal immigration and we will not have taxpayer subsidies benefits for illegal immigrants or their children," she said.