If New Jersey Gov. Chris Christie changes his mind about running for president, he will have to build some bridges with values voters, the president of the Family Research Council, an influential social conservative group, says.
Speaking at the National Press Club, FRC President Tony Perkins said that while Mr. Christie has done some good things, people have to remember that it doesn't take a lot to do good things in New Jersey, and to keep in mind that he's made some moves that could be hard for evangelical Christians to swallow.
"He's made some very questionable appointments of key positions," he said. "He has some backing from individuals who are clearly on the other side of social issues. So, I think he would have a difficult time gaining a lot of support among social conservatives."
Mr. Christie's decision to tap Muslim-American attorney Sohail Mohammed to a state bench, as well as his previous pro-choice stance and support of civil unions could give voters pause, Mr. Perkins said, even though the New Jersey governor has since cast himself as an ally of the pro-life movement and a supporter of traditional marriage.
Those moves could pose problems for any GOP candidate, Mr. Perkins suggested, given that, by his count, social conservatives make up about half of the GOP electorate in primary contests.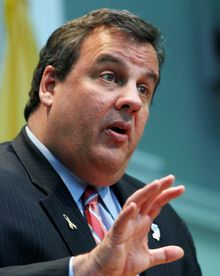 The assessment came hours before Mr. Christie delivered an address on "American exceptionalism" at the Ronald Reagan Library in Simi Valley, Calif., where he warned that the nation's fiscal problems undermine its leadership position in the world.
"The United States will only be able to sustain a leadership position around the world if the resources are there but the necessary resources will only be there if the foundations of the American economy are healthy," he said. "So our economic health is a national security issue as well."
The speech is part of a three-day fundraising tour that includes stops in California, Louisiana and Missouri — an itinerary that is fueling renewed speculation about the New Jersey governor's presidential prospects.
Chatter about a late entry into the presidential contest spiked again after Texas Gov. Rick Perry turned in his third shaky debate performance last week in Orlando, Fla., and then lost a Florida GOP straw poll to former pizza magnate Herman Cain, a political newcomer. The results left some wondering whether Mr. Perry is ready for prime time and whether someone such as Mr. Christie is a more viable candidate than anyone in the current field.
Mr. Christie's brother, Todd, quelled some of the speculation Tuesday after he told the Newark Star Ledger that "I'm sure that he's not going to run."
"If he's lying to me, I'll be as stunned as I've ever been in my life," he said.
Whatever the case, former Virginia Rep. Thomas M. Davis III said the interest in a Christie campaign reflects the general discontent within Republican ranks about the direction of the country and the basic desire for something different.
"Christie is the new thing," Mr. Davis said, though he warned, "Every time we get what I call the flavor of the month — whether it's Donald Trump, Michele Bachmann, whether it's Perry — they don't last very long."
Mr. Christie, noted for his blunt, no-nonsense style and his battles against public employee unions, has emerged as a rising star within national Republican ranks in his first 20 months in office.
Grover Norquist of Americans for Tax Reform said Mr. Christie has raised the bar for other governors by balancing the state budget, opposing tax increases and reshaping the state pension system to reduce unfunded liabilities. As for a Christie candidacy, Mr. Norquist said he's torn.