Anwar al-Awlaki, the extremist Islamic cleric whose American upbringing helped make him al Qaeda's most visible propagandist and recruiter and its most dangerous operational commander, has been killed in Yemen, President Obama said Friday.
"The death of al-Awlaki is a major blow to al Qaeda's most active operational affiliate," Mr. Obama said at the swearing-in of Army Gen. Martin Dempsey as the new chairman of the Joint Chiefs of Staff in a ceremony at Fort Myer, Va.
The president said the airstrike that killed al-Awlaki shows al Qaeda agents "will find no safe haven anywhere in the world."
Mr. Obama carefully avoided saying who had carried out the strike, but sought to give at least part of the credit to the Yemenis.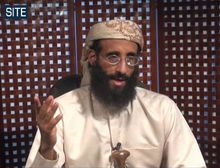 "This success is a tribute to our intelligence community, and to the efforts of Yemen and its security forces who have worked closely with the United States," Mr. Obama said. "He has met his demise because the government and the people of Yemen have joined the international community in a common effort against al Qaeda."
The Associated Press, citing unnamed U.S. officials, said al-Awlaki was killed in a drone strike by the U.S. military's secretive global counterterrorism team, the Joint Special Operations Command.
"For the past several years, al-Awlaki has been more dangerous even than Osama bin Laden had been," House Homeland Security Committee Chairman Peter T. King, New York Republican, said in a statement.
The killing of New Mexico-born al-Awlaki is "a tremendous tribute to President Obama," said the congressman.
The Obama administration had placed al-Awlaki, 40, on a "kill or capture" list because of his role in terrorist plots against the United States hatched by al Qaeda in the Arabian Peninsula (AQAP).
The move gave rise to controversy because al-Awlaki is a U.S. citizen, and human rights advocates argued it is unconstitutional for the U.S. government to target citizens for death without due process. Texas Rep. Ron Paul, a Republican and prominent libertarian running for the 2012 GOP presidential nomination, also raised questions about the legality of the operation targeting an American citizen.
Last year al-Awlaki's father went to court in an unsuccessful attempt to prevent the U.S. government from targeting his son.
A federal judge in Washington, DC, ruled that Mr. Awlaki's family did not have standing to bring such a case, and that in any case the issue was not a matter for the courts to decide.
"There are circumstances in which the executive's unilateral decision to kill a U.S. citizen overseas is 'constitutionally committed to the political branches' and judicially unreviewable. … This case squarely presents such a circumstance," wrote Judge John Bates in his opinion.
Nonetheless, some human rights advocates, longtime critics of the U.S. campaign against al Qaeda, immediately questioned the legality of the killing.