Afghanistan's harsh and isolated Korengal Valley two years ago this month served as the setting for an unlikely U.S. military maneuver — a retreat.
The Army evacuated a network of hilltop platoon outposts, left them to the Taliban and started a war strategy devised by Gen. Stanley A. McChrystal, the top commander in Afghanistan in 2010.
Five years of constant fighting had proved unsuccessful in taming a lawless valley of thieves, warlords, smugglers and the Taliban.
"The belief was our presence there was radicalizing and driving the insurgents," said Bill Roggio, who directs the Long War Journal for the Foundation for Defense of Democracies.
The military could not give up on what is called Regional Command East. It had long deemed the Kunar province and its swath of rugged hills and valleys, such as the Korengal, a critical combat zone to stop an ensconced enemy in Pakistan from crossing through to attack Kabul, the capital.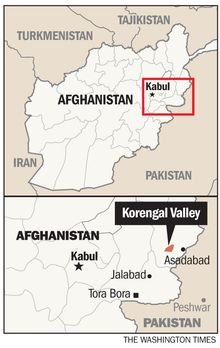 Today, the failed Korengal experiment is a factor in a new way of conducting missions in the east, which includes Kunar and 13 other provinces, and a 450-mile-long border with terrorist-infested Pakistan. The military calls it a "refocus" on finding and hitting the enemy, with less reliance on static valley outposts.
Commanders hope the April 2010 retreat eventually will help bring victory, or at least a reduced enemy presence that can be managed by the Afghan National Army and local police.
'Mowing the grass'
The east stands as the war's most daunting challenge, and the U.S. command knows it is on the clock. President Obama has set the end of 2014 for the removal of virtually all ground combat forces.
Retired Army Gen. Jack Keane, a key outside adviser to U.S. generals, told The Washington Times that the approach involves "not trying to be all things to everyone in the east as we had done in the past. That is what drove this refocus, because there were clearly higher priorities to be able to deal with what the enemy was truly doing."
To Mr. Roggio, the command still has lots of work to do.
"The Taliban has gained control over areas," he told The Times. "A general called it 'mowing the grass.' That's basically what we've been doing, trying to conduct these special operations raids and battalion- and brigade-size operations to [clip] the grass every once in a while. The Taliban still controls numerous districts."
The "mowing the grass" quote came from an unidentified general in a 2011 Wall Street Journal article.
Korengal, the battlefield made famous in the National Geographic Entertainment movie "Restrepo," came to symbolize a failing war in 2009 and a need to surge more U.S. troops to turn the tide of battle, as was done in Iraq in 2007.
The east had become an outpost war zone. The Army built platoon-sized, bunkered camps at the tops of hills from which to launch counterinsurgency operations.