QUERETARO, Mexico — The front-runner in Mexico's presidential race has attracted throngs of supporters among elite and ordinary citizens alike with his calls to boost his country's trade relationships with Canada and the U.S. — a refocusing effort his staffers call "NAFTA 2.0" — and to tamp down the drug violence that has muddied Mexico's reputation.
For Enrique Pena Nieto of the Institutional Revolutionary Party — and apparently the majority of the Mexican electorate — the economic ties that bind the U.S. and Mexico "need to grow."
"If we take into consideration what's happening in the world and the way that competition among countries today is being built by blocs, I believe we have a great opportunity to make a very strong bloc in North America," he said in an exclusive interview with The Washington Times.
"I will work on building infrastructure that can make the whole region of North America more competitive."
His message may sound unusual, if not naive, in a country where the news is dominated by reports about drug gangs, corrupt cops and the deaths of nearly 50,000 people in drug-related violence during recent years.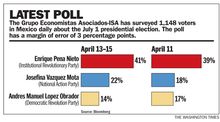 Headline stories about U.S.-Mexico relations often refer to an aid program known as the Merida Initiative, which has received $1.6 billion in drug war support from Washington since 2008.
Mr. Pena Nieto calls for establishing an elite police force to fight organized crime and an "independent czar" who would focus on the victims of public corruption.
But he is bent on shifting the narrative away from the illicit drug trade and toward a collective realization of the potential for growth in the legal economic flow between Mexico and the U.S. — a message that resonates among rank-and-file voters seeking jobs and business owners seeking new markets.
A centrist politician with boyish good looks and charm, Mr. Pena Nieto has built a big lead in the polls ahead of the July 1 election. If he wins, which many here say is inevitable, his plan is to channel that charm toward the United States.
"We have an opportunity to go further in our relationship with the United States and Canada, but especially with the United States," he said.
'Private-sector participation'
With Canada as the No. 1 U.S. trading partner, Mexico rivals China for the No. 2 spot — ahead of Japan, Germany, the United Kingdom and Brazil.
Mexico is the third-largest source of U.S. imports and the second-largest destination for U.S. exports, translating into an estimated 6 million U.S. jobs dependent on trade with the southern neighbor.
The bulk of Mexico's trade involves manufacturing by U.S. outfits tapping lower-cost labor, but Mr. Pena Nieto envisions expanded opportunities for foreign investment in other sectors — specifically energy.
A good place to start, he said, would be to reform Mexico's declining state oil monopoly, PEMEX, to"allow the private sector to participate in exploration, production and refining."