One year after Navy SEALs killed Osama bin Laden, a weakened, fragmented al Qaeda is collaborating with other terrorist and militant groups to target and attack U.S. and Western interests abroad, intelligence officials say.
Aggressive counterterrorism efforts - such as drone strikes and economic sanctions - have crippled the global terrorist network's ability to replace competent leaders, attract recruits and plan devastating attacks, said John Brennan, assistant to the president for homeland security and counterterrorism.
"Al Qaeda is losing - badly," Mr. Brennan said during a speech Monday at the Woodrow Wilson International Center for Scholars. "[But] as the al Qaeda core falters, it continues to look to its affiliates and adherents to carry on its murderous cause."
U.S. intelligence officials who recently briefed reporters on al Qaeda said bin Laden's death removed the terrorist group's most effective and inspirational leader and hobbled its capacity for staging a complicated assault. But they said the threat from al Qaeda affiliates has increased.
"The organization that brought us 9/11 is essentially gone," a senior U.S. counterterrorism official said on the condition of anonymity, but "it's really too soon to declare victory."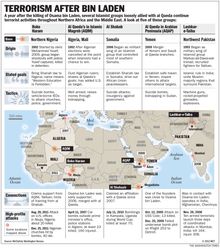 Affiliates such as al Qaeda in the Arabian Peninsula, al Qaeda in Iraq, al Qaeda in the Islamic Maghreb and al-Shabab in Somalia carry out the bulk of attacks, said Robert T. Cardillo, deputy director of national intelligence.
In Nigeria, the al Qaeda affiliate Boko Haram has increased its profile by attacking U.N. offices in August and bombing churches in December.
The future of al Qaeda
Officials ranked al Qaeda in the Arabian Peninsula in Yemen as the top threat of the affiliates.
In 2009, the group inspired Umar Farouk Abdulmutallab, a Nigerian who tried to blow up a Detroit-bound airliner with a bomb concealed in his underwear. In 2010, the group claimed responsibility for a failed cargo-bomb plot involving two planes headed for Chicago.
"They are not only intent on attacking the United States," said a senior U.S. counterterrorism official, "but we are convinced they continue to plot against us. Their rhetoric, their propaganda is both widespread and effective."
Mr. Cardillo said regional affiliates "will surpass the remnants of core al Qaeda remaining in Pakistan and seek opportunities to strike Western interests in its operating area. … But each group will have different intent and ability to execute those plans."
To combat the threat posed by affiliates, the U.S. has expanded its drone campaign in places such as Yemen, its support for local governments and its work with local security forces to weaken the groups, said counterterrorism analyst Daniel L. Byman, a senior fellow at the Brookings Institution.
Meanwhile, the U.S. and NATO are winding down combat operations in Afghanistan, where they have ousted the Taliban-controlled government that sheltered al Qaeda before, during and after the terrorist group's 2001 attacks.
About 100 al Qaeda members are believed to be still operating in the country, and most international combat troops are expected to leave Afghanistan by the end of 2014.