Both Democrats and Republicans are continuing the hallowed tradition of hunting for prominent turncoats willing to speak at their upcoming conventions, with the GOP striking first on Thursday, awarding a prime speaking slot to a man who was one of President Obama's campaign co-chairmen in 2008.
Former Rep. Artur Davis, who served as a Democrat during his four terms in office and seconded Mr. Obama's nomination at the 2008 convention, now supports Mitt Romney and will speak in Tampa, Fla., at the convention that will nominate him as the GOP's nominee.
In announcing the move, Republican National Committee Chairman Reince Priebus said Mr. Davis "especially will give voice to the frustration and disappointment felt among those who supported President Obama in 2008 and are now hungry for a new direction."
As party conventions, once used to select presidential nominees, have turned into pep rallies for the party faithful, the campaigns have sought other ways to make them newsworthy. And politicians willing to cross party lines are one way to do that.
Democrats are still searching for their own version of Mr. Davis this year.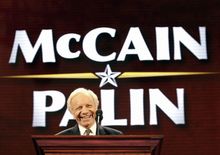 On Wed., Sept. 5, the second night of the Democratic convention, a "notable GOP woman" is a possibility, and on Thursday, the party might showcase a Republican leader such as former four-term Virginia Sen. John W. Warner or former two-term Nebraska Sen. Chuck Hagel, Politico reported recently, citing convention planning documents.
But after Mr. Warner's name was floated, the 85-year-old quickly shot down the speculation. Mr. Warner, who is now with the law firm Hogan Lovells, has steered clear of politics since leaving the Senate in 2009, though he did surprise state Delegate Lacey E. Putney, Bedford independent, in the Virginia House of Delegates chamber in January to honor Mr. Putney's 50 years of service there.
The time-honored tradition of snatching defectors boils down to a rather simple notion, said political scientist Eugene J. Alpert: Anything you can do, I can do better — or, at the very least, equally as well.
"If one party does it, the other party has to do it, right?" said Mr. Alpert, senior vice president of the Washington Center, a nonprofit organization that has been sending students to party conventions through its National Political Convention Program since 1984. "I think it's part of the game that the parties play, and it draws some attention and interest. And I think it's more important these days. You've got to find a way to attract a television audience."
Sen. Joe Lieberman, a Connecticut independent who caucuses with the Democrats but is stepping down next year, spoke at the 2008 Republican Convention and received a relatively warm reception despite the venture behind enemy lines. Mr. Lieberman, who ran as Democrat Al Gore's running mate in 2000, lost his 2006 Senate primary, but ran as an independent and won re-election.
"What, after all, is a Democrat like me doing at a Republican convention like this?" he asked four years ago. "Well, I'll tell you what: I'm here to support John McCain because country matters more than party."
The appearance of Mr. Lieberman, however, was more confusing than electrifying for Elaine Smith, 71, a delegate from Oregon.
"I'm not going to ever be down on somebody if they choose to change parties or change candidates," she said. "I know people were upset about that. To me, it just seemed rather strange."
While Mr. Lieberman's appearance may not have overwhelmed Ms. Smith, Zell Miller, a moderate Democrat and former governor and U.S. senator from Georgia, gave a memorable keynote address and rousing support for President George W. Bush at the 2004 Republican National Convention.
"George W. Bush wants to grab terrorists by the throat and not let them go to get a better grip," said Mr. Miller, who 12 years earlier was launching broadsides at Mr. Bush's father, President George H.W. Bush, as the keynote speaker at the 1992 Democratic National Convention. "From John Kerry, they get a 'yes-no-maybe' bowl of mush that can only encourage our enemies and confuse our friends."