Pro-prostitution groups are latching onto the global AIDS epidemic to push for worldwide legalization of the world's oldest profession.
The effort, being sold as a way to prevent HIV/AIDS infections, got a boost from a report backed by the United Nations that says selling sex should be legal and from speakers at last week's world AIDS Conference in Washington, including a member of Congress who vowed to open U.S. anti-AIDS funds to groups that support the legalization or practice of prostitution.
"We need a law that gets commercial sex work out of dangerous places and into safe ones," Cheryl Overs, senior researcher at Australia's Monash University and a leading advocate of sex-worker rights, told the 19th International AIDS Conference.
The Global Commission on HIV and the Law recently called for an end to "punitive" laws that are "stifling" efforts to prevent HIV transmission.
The commission of global leaders and specialists, backed by the United Nations Development Program and Joint United Nations Program on HIV/AIDS, spent 18 months discussing sex work, drug use and laws criminalizing HIV status.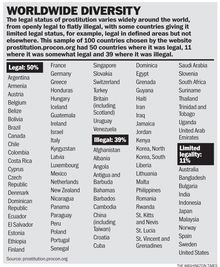 Its report concluded that laws against prostitution should be repealed because they fail to protect women and instead drive at-risk people away from health care services.
"Rather than punishing consenting adults involved in sex work, countries must ensure safe working conditions, and offer sex workers and their clients access to effective HIV and health services and commodities," said the commission's report. It added that laws against all forms of child abuse and human sex trafficking still should be enforced.
Skeptics of legalization
Conservative, religious and anti-pornography groups aren't buying it.
Relabeling "prostitution" as "sex work" and then creating government regulations for it doesn't work, said Janice Shaw Crouse, senior research fellow at Concerned Women for America.
"Prostitutes themselves don't want to be regulated because they don't earn as much money," she said. Thus, even in places where it's legal, "illegal prostitution flourishes."
One fight in Bangkok
The Bangkok Post in Thailand also rejected the commission's report as "muddle-headed."
"Legalizing and trivializing prostitution as just another job passes numerous problems on to government and society. Who will care for the health of the workers? How can society accept brothels as neighbors to schools?" the editorial asked Tuesday.
"No doubt, society and government must deal better with the HIV/AIDS epidemic," the newspaper added. "Unfortunately," the U.N.-backed report "is difficult to take seriously when it demands major, outrageous changes to laws without even a discussion of the effect on society at large."