TAMPA, Fla. — Kicking off Republicans' 2012 nominating convention with a piercing critique of American political life, New Jersey Gov. Chris Christie said Tuesday politicians and voters alike have "become paralyzed" by an inability to live within limits, and he challenged both groups to accept that there are some promises government should not make, and cannot meet.
The day began with the GOP officially nominating Mitt Romney and Paul Ryan as their presidential and vice presidential candidates, concluding a process that began eight months ago in the frozen cornfields of Iowa.
Mr. Romney himself made a surprise appearance after his wife, Ann, delivered a buoyant yet poignant speech describing their life together.
And the evening ended with Mr. Christie using the national stage to say President Obama's philosophies have been tested over the last four years, and the economic and fiscal results serve as a rejection.
"Tonight, our duty is to tell the American people the truth," Mr. Christie said, using his plainspoken everyman's style to particular effect. "Our problems are big and the solutions will not be painless. We all must share in the sacrifice. Any leader that tells us differently is simply not telling the truth."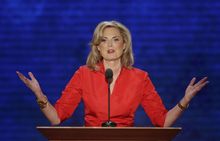 Mr. Christie's keynote address struck a pointed tone in a message that was echoed, in a more gentle way, by Mrs. Romney, who said women voters in particular have suffered and should ask for better.
"We're too smart to know there aren't easy answers. But we're not dumb enough to accept that there aren't better answers," she said.
Mrs. Romney, a breast cancer survivor who has multiple sclerosis, has been labeled the campaign's secret weapon, and her speech was highly anticipated. She has been a constant presence on the campaign trail alongside her husband, but this was by far the biggest stage she had ever had in the campaign, and she pleaded with voters to give her husband a chance.
"No one will work harder, no one will care more, and no one will move heaven and earth like Mitt Romney to make this country a better place to live."
This year's election is shaping up as a choice between dramatically different views of government and the economy, underscored by the GOP's repeated attacks on Mr. Obama's recent claim that business owners didn't build their companies on their own.
Mr. Obama argues the government has to play a major role in building infrastructure and shaping the economy, and that it has a duty to protect the less fortunate with a robust safety net. Mr. Romney argues for taxes and government to be cut, saying that it's getting in the way of economic expansion.
Mr. Obama spent Tuesday campaigning in Iowa and Colorado, where he accused the GOP of preparing to "send an avalanche of attack ads and insults" that he said will be based on lies.
"Those who oppose change — those who benefit from an unjust status quo — they've always bet on your cynicism and complacency," he told students at Colorado State University. "But throughout American history, they have lost that bet. They're going to lose that bet this time because of you."
But Mr. Christie said it was Mr. Obama who would try to sell voters on false promises.
"I believe we have become paralyzed — paralyzed by our desire to be loved. Our founding fathers had the wisdom to know that social acceptance and popularity is fleeting and that this country's principles needed to be rooted in strengths greater than the passions and emotions of the times," he said. "Tonight, we are going to choose respect over love."