Martin Amis is a decidedly reluctant interviewee, a publicist at Knopf had warned. Over the course of an hour and a half, however, the British novelist turns out to be exceedingly good company: affable, witty, caustic.
We meet in London at a pub off the Portobello Road and sit outside with a tomato juice in early summer warmth. Mr. Amis is dressed for the weather — lightweight jacket, unbuttoned shirt, slip-on shoes without socks. Like an off-duty academic, or simply a writer taking a break from writing, he has his glasses hanging around his neck.
Mr. Amis is in the United Kingdom to promote his latest novel, "Lionel Asbo," a scabrous and scurrilous tale of a 'lotto lout' running amok in the capital. With his last couple of novels, "House of Meetings" and "The Pregnant Widow," Mr. Amis' career has been rebounding after lukewarm receptions of "Night Train," "Yellow Dog" and assorted forays into nonfiction. "Lionel Asbo," his darkest satire yet, should extend that winning streak, even if certain voices in the British media have interpreted it as a scathing valedictory to his homeland.
For Mr. Amis, at 62, has moved, set up shop in America. "It's all to do with family stuff," he explains, stressing that his stay is indefinite but not for the long haul. He is angry with a French magazine for the way it twisted his words and implied that he was sick of England. "Apparently I said, 'I wish I weren't English.' It was never like that," he insists. "But the quotes go into the pile and follow you for the rest of your life."
Throughout our exchange, Mr. Amis warms to a theme and then branches off down a new avenue, often with a gleeful grin (that studied frowning or trademark sneer seem to be reserved for photo shoots). Most of these offshoots are connected with his chief love, literature. A dismissal of John Updike's "Couples" ("I hated that") leads to a riff on sex in the novel. "It's OK," he allows, "if the book is about sex, like 'Lolita' or 'Portnoy's Complaint,' but the sex in, say, 'Roger's Version,' wasn't well-integrated. It is sex as porn, and it doesn't take you anywhere. All that precision and attention to detail is suddenly applied to pubic hair and sperm."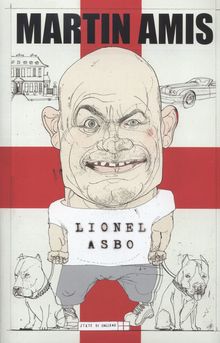 The squeamishness may seem surprising in Mr. Amis, the enfant terrible of British letters a generation ago. "There are hardly any sex scenes in my books," he says. "I wrote about it in 'The Pregnant Widow' as that was about the sexual revolution, but otherwise I prefer fiascos and disappointments."
Mr. Amis' fiction bursts with savage indictments of society, yet he can scarcely be classed a political writer. "I just can't imagine how I would integrate politics in my fiction," he says. "I can't have it shimmying around on the surface. Also, these things seem like bloated topicalities a couple of years later."
Politics may play no role in Mr. Amis' novels, but he remains a defiantly political creature whose comments on policy and policymakers over the years occasionally have proved controversial. His pronouncement that the Muslim community should "suffer until it gets its house in order" got him into particularly hot water.
The current Brooklyn resident confesses he has little time for British politics. "It is only a backwater," he declares. "You realize how little Britain counts in the world when you are in America."
Last year, he went on the GOP campaign trail for Newsweek and described Mitt Romney as having "presidentiality." "He looks like a president," Mr. Amis now says carefully, "but what makes me uneasy about him is that every time he had a win he looked so crazed with power. And then you think back to Obama when he got the presidency and he was the calmest man in Chicago at that huge event — there was a sort of unearthly calm. Maxim Gorky said that Lenin and Trotsky were 'poisoned by the rotten venom of power.' I was very impressed by Obama's immunity to it."
"Lionel Asbo" may or may not embody its subtitle "State of England," just as its author may or may not have told French magazine Le Nouvel Observateur that "all is rotten inside."
As for his new host country, well, it may not be far behind.
"America's got several veins of irrationality in its system," Mr. Amis says. "It can't bear the thought of spending a single cent on someone else's health care, especially if they are low-life boozers and chain-smokers." He grins as he rolls his second cigarette. "America has lost its head several times. Prohibition. A trillion-dollar underworld. The reds under the bed stuff. And then Iraq. Most Americans still think Iraq was behind September 11."
He is suddenly voluble. "We are feeling the first real jitters of America's decline, which is not due to happen for another generation," he says. "I suspect it will go through a period of illusion. Britain got through its decline with the help of a sort of leftish culture, where we were made to feel ashamed of ever having an empire. I don't think America will be as sensible about it as Britain turned out."
Given his earlier dismissal of Britain's relevance on the world stage, one wonders whether national decline is really something to be accommodated so passively. "Well, I think the incredible strength and depth of our literature is not a thing of the past," he says, with keen emphasis. "It will always be there. It is the greatest efflorescence the world has yet known. And that's very far from being nothing."