For just the second time since 1984, Virginia and Maryland will end the year without executing a single death row inmate — reflecting a national trend of states using capital punishment less often over the past decade.
Maryland has long been reluctant to use its death penalty. Virginia, which ranks only behind Texas in the number of executions over the past 35 years, has put fewer people to death in recent years as many cases are tied up in appeals and as juries become less likely to recommend the punishment in capital murder cases.
Analysts say executions have plummeted nationwide and are banned in some states because of rising concerns over heavy court costs, biased sentencing and, perhaps most prominently, the fear that a state could — or already has — killed an innocent person.
"The advent of science in the world of criminology has showed that the justice system makes mistakes," said Richard Dieter, executive director of the Death Penalty Information Center. "That, I think, is a real shocker for the public and jurors, and they're now less likely to give a death sentence."
Yearly executions in the U.S. have decreased by more than 50 percent since 1999, when 98 people were put to death — the most since the Supreme Court placed an effective moratorium on capital punishment in 1972, and reaffirmed its legality in 1976.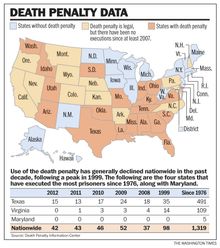 This year, 42 convicts have been executed in a total of nine states, even though 33 states allow the death penalty and more than 3,000 inmates are on death row nationwide.
The year's final execution is scheduled for Tuesday in Florida, where former South Florida police officer Manuel Pardo, 56, is scheduled to be executed for killing nine people in 1986. The execution would bring the nationwide total to 43, matching last year's total but falling short of the 46 inmates who were executed in 2010.
Mr. Dieter said execution rates rose steadily in the 1980s and 1990s as reducing crime rates became a major political issue but have since declined largely because of prosecutors' and juries' reliance on life without parole as a common alternative.
Slow appeals process
David Muhlhausen, a senior fellow at the Heritage Foundation, said he thinks the drop in executions largely has been a result of a national decline in murder rates and longer appeals processes for death row inmates.
According to the Bureau of Justice Statistics, inmates executed in 2010 — the most recent year for which statistics were available — had been under sentence of death an average of 14 years and 10 months, which was nine months longer than those executed in 2009.
Mr. Muhlhausen, who supports the death penalty, said he does not expect executions to increase anytime soon unless the legal process is expedited.
Although he is reluctant to call for such reforms because they could increase the likelihood of wrongful executions, he said, the death penalty should be kept in place to punish the nation's most violent offenders and serve as a deterrent.
"Each additional execution, in fact, saves lives," he said. "And that's something opponents don't consider."
While a declining crime rate has led to fewer executions, Mr. Dieter said, another major factor has been a number of high-profile exonerations of death row inmates.