RICHMOND — George Mason guard Corey Edwards didn't blink Saturday as he found an open Sherrod Wright in the closing seconds of what was to become a 67-64 victory over Richmond.
"Anybody from New York, I'm confident in," Edwards said.
Himself included.
The triumph was secured on Wright's walk-off 3-pointer, an added to chapter to the junior wing's end-game bona fides. Yet this also was a potentially critical game for Edwards, a sophomore who might be emerging as the Patriots' best hope at point guard with CAA play fast approaching.
The South Jamaica, N.Y., product made his third straight start Saturday, finally looking more like the player who offered Mason an early peek at his skill set early last season before a concussion. He scored 13 points, his first trek into double figures as a college player, and had three steals, three assists and just one turnover.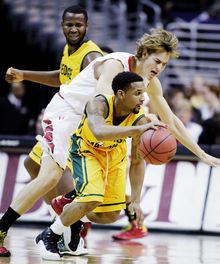 "I give him credit for hanging in there," coach Paul Hewitt said. "He's stabilizing us right now."
It's precisely what Mason (7-4) requires at this stage. The Patriots have no seniors in their rotation, and their early results suggest unevenness not just from game to game, but half to half and even minute to minute.
It was after a loss to Maryland earlier this month in the BB&T Classic that Hewitt opted to make a lineup change, his first of the season not connected with a suspension. Edwards took Bryon Allen's place at the point, a move designed to improve Mason's defense since Edwards led the team in deflections even though he ranked eighth in minutes.
With the semester coming to a close, it was an ideal time for Edwards to take on greater responsibility.
"Now that school's over, I'm concentrating on basketball and starting, you get in the flow of the game quicker so I get to be more active, get more deflections," Edwards said.
Even last season, Edwards didn't seem particularly comfortable in short spurts off the bench.
Perhaps some of it was a function of never quite re-establishing himself after missing two games with the concussion. But maybe some of it was simply a need for more time to get a feel for the game.
Either way, Saturday might have been his best outing at Mason. His shot selection wasn't forced, and the Patriots were just more settled with him at the point, committing seven of their 17 turnovers in the 12 minutes Edwards wasn't on the floor.
"We just said, 'Hey, let's give him a chance and see what happens,'" Hewitt said. "Now, the offensive play is coming back to where it was last year prior to the concussion."
The reasons, at least in Edwards' mind, are simple.