"They'll rub their silver quarters together for you. They don't tip well," she said of serving pastries to the geriatric. But the bay isn't providing the waterman's life it did for decades; farming isn't as profitable; and other service-sector employers, like nightclubs, aren't viable.
"It is hard to make a living here, unless you want to work in the nursing home or hospital or cut someone's grass. After people graduate, they end up working somewhere else," said Town Manager Tom Saunders.
Migration patterns, chiefly of the young following one another to meccas of cool with jobs and momentum, have insulated broader metropolitan areas such as Washington and Las Vegas, but they have exacerbated the age imbalance in other places, including Buffalo, N.Y., and Noble County, Ohio, where 39 percent of residents are 55 or older, compared with 21 percent a decade ago.
In Pennsylvania, 600,000 people 65 or older live in solitude, many of them women whose husbands have passed away, and they need or will need a gamut of services. They need young people to provide these services and to pay into the Social Security system from which they draw.
It is no surprise that people are fleeing places such as upstate New York, Appalachia and Ohio, where jobs in factories and mines that sustained generations have receded. But contrary to notions of Florida as God's waiting room, most middle-aged to elderly are reticent to uproot and "age in place," regardless of circumstance.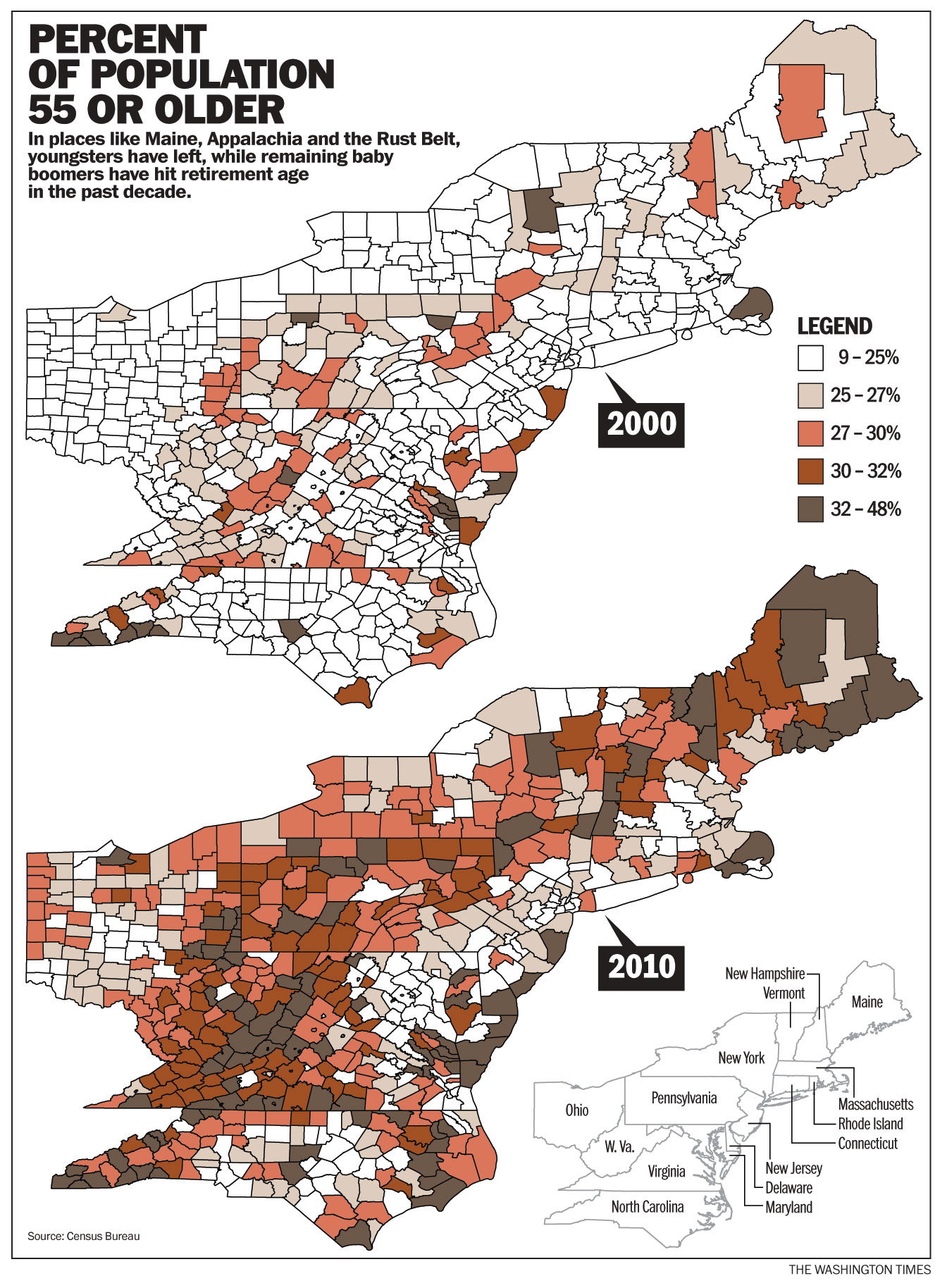 For America, growing old is a white person's problem, and it is only immigration and higher birthrates among minorities that have stabilized the population of more cosmopolitan areas. There is a straight line between the white percent of the community and its share of elderly. With its large Hispanic population, Texas has the third-lowest rate of people 55 and older. One the other end of the spectrum are West Virginia and Maine, nearly entirely white, and with the highest.
So even those places that are not symbols of industrial decline, but merely reserved stoicism – places that haven't experienced exodus, only failed to draw newcomers – have rapidly become retirement homes the sizes of small countries.
In Maine, the median age has risen from 34 to 43 over the past 20 years. In New Hampshire, Alaska, Vermont, Montana and Oregon, more than 6 percent of the population has crossed the age 55 marker in the past decade, rising in New Hampshire, for example, from 20 percent to 27 percent.
Rocking the suburbs
In distinct and isolated communities such as Kilmarnock, where an ambulance can take 15 minutes to arrive for a person experiencing a heart attack, and where expectant mothers must travel an hour to deal with complications because a maternity care center stands abandoned because of lack of demand, the most urgent effects of an age imbalance are felt.
The most prevalent changes are occurring in the subdivisions where the "Wonder Years" generation settled, in the vast and traffic-clogged tracts surrounding New York, Los Angeles and other cities.
"The suburbs are ground zero. That's where the infrastructure gap is going to be the biggest. They were built for younger people: Parks, playgrounds, schools," Mr. Frey said.
Four-bedroom houses purchased to raise three children have done their duty, but empty-nesters stay put, dusting vacant rooms attentively. Mom and Dad moved there to be around people like them. That they are now utterly out of place, two aging adults on a cul-de-sac with a basketball hoop out front and an elementary school down the block, isn't apparent because their neighbors, too, have traveled life's journey with them.
But the neighborhoods lack mass transit, for example, and that could be a problem when fading eyesight makes driving difficult.
"As a nation, we have to understand there are very tough issues we're going to have to face in terms of government services and support for the elderly population," Mr. Frey said.