Nicole Hawkins' three daughters have matching glittery boots, but none has the same father. Each has uniquely colored ties in her hair, but none has a dad present in her life.
As another single mother on Sumner Road decked her row-house stoop with Christmas lights and a plastic Santa, Ms. Hawkins recalled that her middle child's father has never spent a holiday or birthday with her. In her neighborhood in Southeast Washington, 1 in 10 children live with both parents, and 84 percent live with only their mother.
In every state, the portion of families where children have two parents, rather than one, has dropped significantly over the past decade. Even as the country added 160,000 families with children, the number of two-parent households decreased by 1.2 million. Fifteen million U.S. children, or 1 in 3, live without a father, and nearly 5 million live without a mother. In 1960, just 11 percent of American children lived in homes without fathers.
America is awash in poverty, crime, drugs and other problems, but more than perhaps anything else, it all comes down to this, said Vincent DiCaro, vice president of the National Fatherhood Initiative: Deal with absent fathers, and the rest follows.
People "look at a child in need, in poverty or failing in school, and ask, 'What can we do to help?' But what we do is ask, 'Why does that child need help in the first place?' And the answer is often it's because [the child lacks] a responsible and involved father," he said.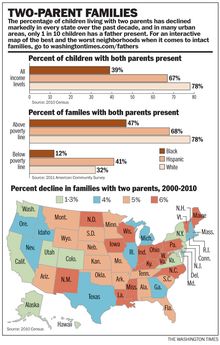 Dangerous spiral
The spiral continues each year. Married couples with children have an average income of $80,000, compared with $24,000 for single mothers.
"We have one class that thinks marriage and fatherhood is important, and another which doesn't, and it's causing that gap, income inequality, to get wider," Mr. DiCaro said.
The predilection among men to walk away from their babies is concentrated in the inner cities. In Baltimore, 38 percent of families have two parents, and in St. Louis the portion is 40 percent.
The near-total absence of male role models has ripped a hole the size of half the population in urban areas.
Tiny selfless deeds trickle in to fill that hole as the natural human desire for intimacy is fulfilled: One afternoon last week as a girl hoisted a half-eaten ice cream sandwich high over her pigtailed head, Larry McManus, the father of the girl's sister, bent down to eat out of her hands as he picked up the girls from school.
"I know dads that say they ain't their kids. I see dads being disrespectful of the mothers. And I see ones who take other men's kids to football games because they know their fathers aren't around," said Mr. McManus, an ex-felon who said he is "trying to make a lot of changes right now."
Asked his daughter's age, he consults with her sister.
"Five. She's in pre-K," the girl answered.
"She's 5," he echoed. "Mmm, that was good," he said gently of the ice cream sandwich. "Can I have another bite, please?"