Republicans said Wednesday that it's now Democratic leaders' turn to feel the heat of trying to work out a budget deal.
After House conservatives sank his plan last week, Speaker John A. Boehner, Ohio Republican, and his top lieutenants said it's now up to President Obama and Senate Majority Leader Harry Reid, Nevada Democrat, to take the next step and try to write a deal that can get through the Senate.
But Mr. Obama and Mr. Reid are facing increasing heat from their party's left flank to make sure Social Security isn't part of any agreement.
Some liberal leaders have drawn red lines, and one pressure group has vowed to find primary opponents for any Democrat who votes for a deal that includes reductions in projected Social Security benefits.
"We will not be voting for any cuts to Medicare, Medicaid and Social Security," said Rep. Keith Ellison, Minnesota Democrat and co-chairman of the Congressional Progressive Caucus. "They can go back and recalculate and come up with something else, because we're not going to solve these fiscal problems on the backs of the seniors, of the disabled, of the survivors."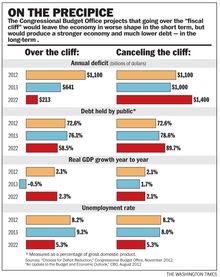 Senators return to town Thursday to debate an intelligence bill and emergency-spending legislation to repair damage from Superstorm Sandy, and Mr. Obama wings his way back from a Hawaiian Christmas vacation early Thursday, but they will be met with an empty House chamber.
Mr. Boehner said he won't call representatives back to Capitol Hill until the Senate acts to avert the "fiscal cliff" — either to accept bills that the House passed earlier this year or to pass a new version written by Mr. Reid.
There is no clear path forward to avert the fiscal cliff, which is the combination of across-the-board tax increases due Tuesday and $110 billion in automatic spending cuts due Wednesday.
Conservatives have signaled that they will reject tax increases, and liberal lawmakers and interest groups are increasingly making clear that they won't swallow the kinds of entitlement cuts that Mr. Obama floated as a counteroffer to Mr. Boehner.
AARP, which lobbies for seniors, has voiced its displeasure with a proposed change to Social Security that it calls "a stealth benefit reduction," and AFL-CIO President Richard Trumka has urged Congress to reject turning to Social Security for a solution.
At issue is the measure of inflation used to calculate inflation. Most federal programs are tied to the Consumer Price Index, but Mr. Obama had been open to using what is called Chained CPI, which would lead to lower cost-of-living adjustments.
The Congressional Budget Office projects that would mean a quarter of a percentage point slower growth per year, which could add up over the decades.
Liberals argue that a reduction in projected increases amounts to a cut in benefits — particularly for seniors.
"The chained CPI formula doesn't take into account seniors' rising health care costs. If it did, benefits would go up," said outgoing Rep. Dennis J. Kucinich, Ohio Democrat.
But they have a key opponent in House Minority Leader Nancy Pelosi, California Democrat, who last week told reporters that she didn't consider chained CPI to be a benefit cut.