ANNAPOLIS — Still digesting his team's 1-3 start, Navy coach Ken Niumatalolo stepped onto a practice field just a short walk from the banks of the Severn River in early October.
Was another season about to slip away from the Midshipmen, who had gone 5-7 in 2011? Were the carefully constructed underpinnings of a golden age of Navy football, one that netted eight straight bowl appearances, collapsing beneath the fifth-year coach?
In short, was the reality it is hard to win — perhaps Niumatalolo's favorite phrase to employ with players and reporters alike — taking root in a lasting manner?
Niumatalolo walked out for the Mids' typically brisk Monday practice, and if he did not harbor doubts, he surely possessed concerns as Navy attempted to rebound from a 12-0 loss to San Jose State and a September littered with turnovers.
Niumatalolo is a restrained man, one not susceptible to head-on-a-swivel reactions. He is every bit a former offensive line coach, for those who work daily with linemen learn quickly there is no artificial way to accelerate improvement without a severe cost later.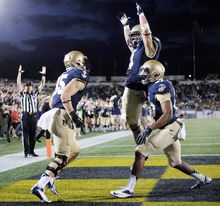 Defensive line coach Dale Pehrson and Niumatalolo discussed the looming season in late August. Pehrson, a fixture at the academy since 1996, knows the tumultuous life of a midshipman as well as anyone on Navy's staff. The two looked at each other and agreed they felt really good about their team.
Notre Dame routed Navy 50-10 a day or two later.
There was no way to know the Fighting Irish would go undefeated, only that Niumatalolo insisted it was the best Notre Dame outfit he witnessed during his time at Navy. But two more losses followed before the month was up, and the Mids' season appeared to be at a crossroads.
Niumatalolo reflected on what he could do better. As his team stretched with foam rollers — a new addition to Navy's pre-practice routine this year — Chris Culton (another offensive line coach, one who was in his 10th year in Annapolis) walked over to the head coach.
"He said 'Coach Niumat, we're doing a lot of things right, we have to stay the course even if the tide doesn't turn right away,'" Niumatalolo recalled. "I just looked and I smiled. I needed that talk, too."
'We got it started'
It's easy to look back on Navy's season arc and come to clear conclusions. The Mids (7-4) enter Saturday's meeting with Army (2-9) at Lincoln Financial Field in Philadelphia with nearly everything they could have desired.
They will play Arizona State in the Dec. 29 Fight Hunger Bowl in San Francisco. They can claim the Commander-in-Chief's Trophy for the first time since 2009 with a triumph Saturday. And they can extend their decade of dominance and the bragging rights associated with 10 straight victories over the Black Knights.
Navy's surge started with a 28-21 overtime victory at Air Force, earned after erasing an eight-point deficit in the fourth quarter. It is tempting to attribute all of the Mids' ensuing success to one game.
It surely made the team feel better about itself and provided evidence that established methods reflected in the program's marketing slogan "Tradition Never Graduates" could still work. More than anything, it pushed away sneaking fears another year could go sour.