Congress careened over the edge of the fiscal cliff at midnight, but a solution was in the offing after the Senate voted early Tuesday to approve a deal that combined tax-rate hikes and new stimulus spending, along with a two-month delay of automatic spending cuts.
Democrats and Republicans linked arms and powered the bill through the Senate on an overwhelming 89-8 vote, sending the measure over to the House, where a final showdown looms, and where it could have a more difficult path.
Sen. Mitch McConnell said it was the best bill that could be written.
"The president wanted tax increases, but thanks to this imperfect agreement, 99 percent of my constituents won't be hit by those hikes," the Kentucky Republican said just ahead of the vote, which didn't end until after 2 a.m. Tuesday morning.
An early estimate of the tax provisions found the bill amounted to a nearly $4 trillion tax cut when calculated over the next decade — all of which will be added onto the deficit.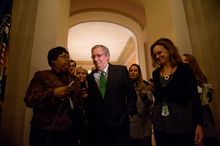 House Republican leaders released a statement saying they are still considering whether to try to amend the deal or put it up for a vote as-in, and said those decisions "will not be made until House members — and the American people — have been able to review the legislation."
The White House and Mr. McConnell, the top Republican negotiator, settled on the outlines Monday evening, and Vice President Joseph R. Biden visited the Capitol to sell the deal to reluctant Democrats, spending more than an hour with them.
Democrats emerged saying they weren't happy with the deal, but most of them said it was the only option.
"For the first time in literally years, we have a major issue settled by bipartisan vote," said Sen. Dianne Feinstein, California Democrat.
Some Democrats though, backed by liberal pressure groups, said their leaders caved on too many key issues. AFL-CIO President Richard L. Trumka tweeted that the deal "set the stage for further destabilizing hostage taking from Rs in the form of another debt ceiling crisis & another sequester crisis."
The final sticking point was over how to postpone at least two months of those automatic spending cuts, or sequesters, scheduled to happen Wednesday.
Tax rates technically rose to their Clinton-era rates as the clock struck the new year, though taxpayers won't see an immediate change. Still, unless Congress acts soon, the government will begin to withhold more money from future paychecks to reflect the higher rates, which will average about $3,500 per taxpayer in 2013.
In the absence of a deal, President Obama also is required to begin imposing the $110 billion in automatic spending cuts Wednesday.
"This is disgusting, and everybody involved should be embarrassed," said Rep. Steven C. LaTourette, an Ohio Republican retiring when Congress ends its current "lame duck" session in two days.
House Republican leaders told members they'll reconvene Tuesday, New Year's Day, but offered no guarantee they can pass the deal Mr. McConnell and Mr. Biden worked out.