CAIRO — Egypt's Islamist president fled his palace by the back door Tuesday as riot police used clubs and tear gas to battle thousands of demonstrators protesting his seizure of broad powers that enabled him to push through a draft constitution.
Protesters proclaimed the march on the presidential residence in Cairo a "last warning" to President Mohammed Morsi. They shouted, "We want the downfall of the regime" and "leave, leave," echoing chants used against authoritarian President Hosni Mubarak, who was ousted in February 2011.
Observers feared for the stability of Egypt after more than 10 days of demonstrations by opponents and supporters of Mr. Morsi's Muslim Brotherhood government.
"What we are seeing now is an escalation by both camps, who are both going for broke," said Fawaz A. Gerges, director of the Middle East Center at the London School of Economics.
"This is very dangerous because Egypt is descending into a potential civil war."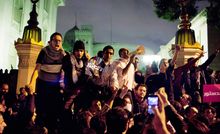 Protesters cut through a barbed-wire barrier several hundred yards from the palace before police fired tear gas at the demonstrators. The police then retreated, allowing the protesters to reach the palace walls. It was the first time since Mr. Morsi took office in June that his government has used violence against civilians.
Demonstrators demanded the withdrawal of a draft constitution passed hurriedly Friday and slated for a national referendum Dec. 15, as well as the cancellation of the Nov. 22 presidential decrees giving Mr. Morsi nearly limitless power.
The decrees also shield his office, the committee that drafted the proposed constitution and the upper house of parliament from the courts.
On Friday, the Muslim Brotherhood-dominated Constituent Assembly rushed through a draft constitution without participation of the secular opposition or Coptic Christians, who began boycotting the assembly last month. They accused the Islamists of forcing through a charter that fails to protect free speech and the rights of women and minorities and gives too much power to religious clerics to interpret law.
"Morsi's policies represent dictatorship," said Ali Ziad, 21. The student said he voted for Mr. Morsi because he "represented the revolution" that overthrew Mr. Mubarak.
Now he opposes the president.
"The people will not agree to it because there is no respect for the law," Mr. Ziad said of Mr. Morsi's power grab.
Others say Mr. Morsi was forced to take action to move the country forward in its political transition.
"I hope people would give him time. It's been only five months," said Huda Mohammad, 30, calling the anti-Morsi protesters "thugs."
"We need to give him the chance to be able to live in stability."