CARACAS, Venezuela — Venezuelan presidential hopeful Henrique Capriles last week called for "balanced elections" and criticized the use of government money and slanted coverage in state media as President Hugo Chavez seeks re-election.
Mr. Capriles is expected to face a tough race against Mr. Chavez, who even after 13 years in office remains a hero to many of his supporters and maintains a visceral connection to a significant segment of the poor in Venezuela.
Mr. Chavez also will likely use a bonanza of public spending as he seeks re-election in the Oct. 7 presidential election.
Mr. Capriles complained last week that government-run television coverage is tilted against him.
"Let's have some balanced elections," Mr. Capriles said at a news conference a day after handily winning the opposition's first-ever presidential primary.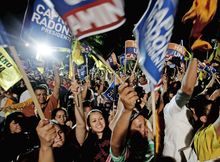 The 39-year-old candidate, who is governor of Miranda state, also strongly criticized Mr. Chavez's economic policies. He condemned the government's expropriations of hundreds of businesses, apartment buildings and farms over the past decade.
"All the expropriations have been a failure," Mr. Capriles said. "The companies that have been seized by the state must be reviewed one by one."
He said some of those businesses could be privatized if he defeats Mr. Chavez.
Mr. Capriles warned that newly stiffened price controls won't work and predicted many items will become scarce. He said deodorant could start to vanish from stores, laughing as he said that Venezuelans might need to start to live with body odor.
Mr. Capriles touted the turnout of about 3 million ballots cast out of 18 million registered voters as a major achievement.
"Venezuela woke up with a new political reality," he said.
Historic turnout
Vice President Elias Jaua said that it was positive for the opposition to have recognized the authority of the National Electoral Council. Some Chavez opponents have questioned its independence in the past.
"We hope that this same recognition exists Oct. 7, when Hugo Chavez wins the elections," Mr. Jaua said on state television.
He said the opposition should respect the electoral council as an impartial arbiter, as well as the role the military will play in maintaining security during the vote.