VIERA, Fla. — On one of his first days inside the clubhouse at Space Coast Stadium this spring, Washington Nationals shortstop Ian Desmond stood at his locker and tried on the new, crisp white baseball pants that were waiting for him.
As he pulled them up around his waist, he chuckled and shot a puzzled look at second baseman Danny Espinosa and outfielder Jayson Werth. He was swimming in them. The pants, which were clearly not going to work for Desmond, did point out one fact for the shortstop: 15 pounds make a striking difference.
That's how much lighter Desmond is this year than he has been in the previous two at this time. The goal used to be 220 pounds. Desmond would work out and lift and bulk up all winter to reach that goal weight, figuring he'd lose about five pounds under the hot Florida sun in the spring and hit D.C. at 215.
By the end of the season, though, Desmond always is closer to 205 pounds. And for two straight years the 26-year-old has started painstakingly slow at the plate (in 2011, he hit .223 with a .264 on-base percentage in the first half) but finished refreshingly strong (a six-week run batting leadoff where he hit .305 with a .342 on-base percentage). This year, with the role of leadoff hitter thrust on him from the outset, he's taking the wisdom gathered in his first two seasons and using it to better himself as a player.
"I feel like this is the way my body's supposed to look," Desmond said on a quiet morning last week. "I'm supposed to feel like this. This is the weight I perform best at every single year."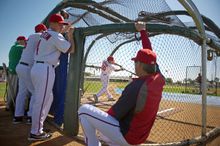 Maybe, he thought last fall, the extra weight contributed to the beating his legs took. Or played a factor in him tweaking his left quad early in the season when the team was absorbing the losses of first baseman Adam LaRoche and third baseman Ryan Zimmerman, an injury he didn't fully recover from until a few weeks after the All-Star break.
Maybe, to be the type of player the Nationals need, he didn't need that bulk.
"It's a mental thing, too," he said. "You come in at 220, and then you're trying to hit home runs. I think I'm just coming to the realization that that's not going to be my style of game."
In place of that added weight was a new goal: to hit 15 triples as a gap hitter less focused on power and more on getting on base. To do so would place him among the likes of Carl Crawford, Jose Reyes, Jimmy Rollins and Curtis Granderson, who all have hit at least 15 triples o in a season.
Desmond ruminated over the idea to stay thinned out as the 2011 season was coming to a close, but a glimpse into his past solidified it for him. Desmond's 17-year-old brother, Chris Charron, who shares a frame similar to Desmond's at 6-foot-2, moved into his Sarasota, Fla., home this winter. He studied his brother's lanky physique and thought: "That's the type of guy I should be."
So instead of going with his usual routine, Desmond amped up his cardio, focused more on his conditioning and arrived in camp with a physique that quietly had Nationals coaches and officials talking.
"With that leanness, when he's with the bat, he's much looser," said hitting coach Rick Eckstein. "He gets extension easier. His swing is just really good right now. … He looks phenomenal, and where he's at mentally is tremendous."
Mental strength never has been an issue for Desmond, who insisted throughout his struggles last year that his mindset was fine and portrayed that feeling outwardly. But he admits now that there were times last year where, in his words, "I was just like, 'What are you doing?' I just felt like I couldn't do any worse."
On Aug. 17, after an improved few weeks hitting out of the dreaded No. 8 spot, manager Davey Johnson wrote Desmond's name in the lineup at leadoff and informed him he wouldn't be going anywhere.
"When Davey said, 'OK, here you go,' … his game elevated," Eckstein said. "To see Ian the last six weeks just come alive and transform, all of a sudden you saw the Ian Desmond that you know that he's capable of being. It's a huge bright spot going into this season."