NOVI, Mich. — Overcoming his own stumbles and what he called one opponent's "dirty trick" campaign, Mitt Romney swept both the Arizona and Michigan primaries on Tuesday, once again taking control of the Republican presidential race and earning valuable momentum as the field prepares for Super Tuesday next week.
In winning Michigan, Mr. Romney claimed victory in the state where he was born and where his father served as governor — and avoided what would have been an embarrassing loss.
And in both Arizona and Michigan, he improved on his showing from 2008, breaking what had been a trend of shedding support from his prior run.
Shortly after the networks projected Mr. Romney's victory, his supporters broke into cheers at his victory party, and Martha and the Vandellas' Motown hit "Dancing in the Streets" began playing.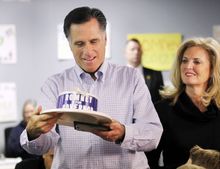 "What a win. This is a big night," Mr. Romney said. "We didn't win by a lot, but we won by enough. That's all that counts."
With 88 percent of precincts report in Michigan, Mr. Romney had 41 percent of the vote to former Sen. Rick Santorum's 38 percent. In Arizona, with 76 percent of precincts reporting Mr. Romney led 48 percent to 26 percent.
Rep. Ron Paul of Texas and former House Speaker Newt Gingrich trailed in both states, and they had already headed east to prepare for contests on Super Tuesday on March 6, vowing to try to extend the nomination battle all the way to the convention in Tampa, Fla., in August.
"We came into the backyard of one of my opponents, in a race where everyone said, 'Well, just ignore [the state], you really have no chance,' " Mr. Santorum said at his post-election party in Grand Rapids, Mich. "The people of Michigan looked into the hearts of the candidates, and all I have to say is, 'I love you' back."
Arizona's 29 delegates to the nominating convention in August all go to Mr. Romney, while Michigan's 30 delegates will be divided proportionally and among congressional districts. With his strong showing in Michigan's rural areas, Mr. Santorum will likely grab a decent chunk of those delegates.
That's some consolation for the former senator from Pennsylvania, who swept caucuses in Colorado and Minnesota and Missouri's nonbinding primary on Feb. 7, establishing himself as the chief opponent to Mr. Romney.
But Tuesday's victories gave Mr. Romney clear momentum, with Michigan marking his first win in the Midwest — a region Mr. Santorum had appeared to have the upper hand.
Both men appeared to retool their messages in their remarks Tuesday to address weaknesses.
Mr. Romney used his victory speech to train fire at the Obama administration, saying that the president has embraced policies that have added to the national debt and failed to improve the nation's employment picture.
"You've heard the saying, 'I need a vacation from this vacation?' Well, we need to recover from this so-called 'recovery,'" Mr. Romney said, sparking applause and laughter from the crowd.