Special operations forces to do more with less
Effect on units raises concerns
The Obama administration's increasing reliance on special operations forces with a stagnant budget has sparked concern among the elite units that they will be asked to do too much with too little.
The forces will be conducting missions in 120 countries by year's end, up from about 75 currently. This activity is increasing as the U.S. Special Operations Command's budget is set to remain flat.
The command's fiscal 2013 budget request is $10.4 billion — essentially the same as its current budget. In 2011, its budget was $12.1 billion.
Defense Secretary Leon E. Panetta said last month that as U.S. troops gradually withdraw from the war in Afghanistan, there will be "more opportunities for special operations forces to assist and advise our partners in other regions."
"There is some concern that the SOF community is not going to be robust enough to maintain these high-demand operations indefinitely," said retired Lt. Gen. David Barno, a former Army Ranger and former commander of U.S. and coalition forces in Afghanistan.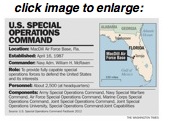 In a Feb. 14 Foreign Policy article titled "SOF Power," Gen. Barno said the Obama administration has not adequately addressed important questions about the impact on the culture of special operations forces.
Dedicated support
For instance, high demand for special operations over the past decade has contributed to a shortage of adequate support, such as helicopters dedicated to special operations forces, he said.
In August, 30 troops, including 22 Navy SEALs, were killed in Afghanistan when Taliban fighters shot down their helicopter — a Chinook, which typically is used for heavy transport and flown by a conventional crew.
Although the type of helicopter and crew had nothing to do with the shootdown, Gen. Barno said, it only makes sense that highly trained specialized troops should deploy into combat in an helicopter dedicated for special operations.
"You always want to fight with the same people you train with," said Gen. Barno, now a senior fellow and adviser at the Center for a New American Security.
According to a recent Congressional Research Service report, the special operations forces may expect even less support.
"In light of anticipated ground-force cuts, the services might be hard-pressed to establish and dedicate enabling units to support [Special Operations Command] while at the same time providing support in-kind to general purpose forces," the Jan. 11 report stated.
Special Operations Command, based in Tampa, Fla., has about 66,000 military and civilian personnel. At any given time, 54,000 are training or redeploying, and 12,000 are deployed around the world. About 9,000 are in Afghanistan.
The command expects to add about 8,800 troops over the next four years — 2,500 this year, 2,300 in 2013, and 2,000 in 2014 and 2015.
View Entire Story
© Copyright 2014 The Washington Times, LLC. Click here for reprint permission.
About the Author
Kristina Wong is a national security reporter for The Washington Times, covering defense, foreign policy and intelligence affairs. She can be reached at kwong@washingtontimes.com.
Latest Stories