U.S. Africa Command has been quietly battling terrorism on the African continent, relying heavily on special forces.
But amid a shrinking Pentagon budget and increased use of special forces in Afghanistan under a new military strategy, Africom may have fewer resources to counter a growing terrorism threat.
Africom's mission is to bolster the capability of host African governments and militaries to fight domestic threats, including terrorism, without the large costs of with waging war in a foreign territory.
The elite military forces under Special Operations Command-Africa, based in Stuttgart, Germany, achieve that cost-effectiveness.
The exact number of special forces in the region is classified. But this week, Navy Adm. William McRaven, commander of Special Operations Command, said there are about "3,000 folks deployed outside of Afghanistan," including the African continent and Yemen, in the Arabian Peninsula.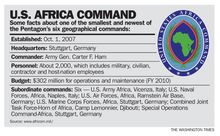 J. Peter Pham, director of the Michael S. Ansari Africa Center at the Atlantic Council, estimates there are fewer than 200 special forces actually operating on the continent.
They train host nation's forces, and include units from each service, such as the Green Berets, who specialize in irregular warfare and work in small teams no larger than 12. The Green Berets also build roads, schools, provide health care and live among locals, speaking their language.
Each member of the U.S. special forces is able to train 100 of a host nation's soldiers.
Africom is the smallest of the Pentagon's six regionally focused commands and usually has fewer than 5,000 troops in Africa at any given time.
That's an extraordinarily small number to cover Africa's 54 countries over 12 million square miles. By comparison, U.S. Central Command, which covers the Middle East, has about 150,000 troops to cover 20 countries over a span of 4 million square miles.
"What I like best about this command is, you may find at any one time a wide number of small teams — in many cases, individuals or pairs of people — around the continent engaging with their African partners," Army Gen. Carter F. Ham, commander of Africom, said in a written response.
"It doesn't take a lot of money, doesn't take a lot of people, but the effect — everywhere there are Americans, military and civilian, from the command, contributing to African security, I believe that that has a disproportionate, positive effect to the resources we consume."
Africom has about 2,000 more personnel at its headquarters in Stuttgart and has one base on the continent, Camp Lemonnier in Djibouti, which houses a U.S.-led multinational task force established in 2002 to focus on countering terrorism in the Horn of Africa. It now has focused on building host nations' capacity to promote regional stability and prevent conflict.
Because of its proximity to the Arabian Peninsula, Camp Lemonnier also supports Pentagon objectives in Yemen. The camp supports about 3,500 U.S. and allied forces and civilian personnel.
According to a Congressional Research Service report, the U.S. military has access to several foreign air bases and ports in Africa and "bare-bones" facilities maintained by local troops in several locations.