Michelle Obama may be missing the point.
Responding to a new book by New York Times reporter Jodi Kantor that characterizes the first lady as an occasionally unhappy and strident White House resident, Mrs. Obama said in an interview broadcast Wednesday on CBS that people have inaccurately tried to portray her as "some kind of angry black woman" and that "I love this job. It has been a privilege from day one."
Missing in Mrs. Obama's self-defense, which primarily pushed back against reports of tension between her and President Obama's top aides?
A rebuttal to ongoing criticism that the Obamas have seemed out of economic touch with a nation struggling with high unemployment and the ongoing fallout of the Great Recession.
Case in point: Ms. Kantor's book depicts a lavish, unpublicized 2009 "Alice in Wonderland" White House Halloween party featuring director Tim Burton and actor Johnny Depp, a soiree that has drawn negative scrutiny for taking place during the deepest dip of the economic downturn.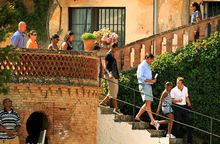 As Nancy Reagan once learned after being blasted for buying pricey White House china during a recession, both political opponents and the general public can quickly turn against presidential glamour — at least when it comes off as less Jackie Kennedy than Marie Antoinette.
Herein, a guide to Mr. and Mrs. Obama's top "Let Them Eat Cake" controversies:
1. The Pain in Spain
Incident: The first lady and daughter Sasha took a five-day trip to southern Spain, shopping, visiting coastal towns and lunching with the nation's king and queen.
Criticism: Mrs. Obama and her daughter stayed at a five-star coastal resort where rooms run from $400 to almost $7,000 per night and the first lady was photographed wearing an off-the-shoulder top from pricey designer Jean Paul Gaultier, causing critics to blast the seeming show of extravagance during a period of 9.5 percent unemployment.
Infuriating fact: While the Obamas paid their own way for the trip, American taxpayers picked up the estimated $250,000 security tab.
Infuriating fact II: The White House had dubbed it "Recovery Summer." D'oh!
Mitigating fact: Mrs. Obama reportedly went to Spain to comfort a friend whose father had recently died and whose daughter, a friend of Sasha's, always had wanted to celebrate her birthday in the country.
Quotable: New York Daily News writer Andrea Tantaros labeled Mrs. Obama "more like a modern-day Marie Antoinette than an average mother of two" and noted that "the trip and glitzy destination contrasted with President Obama's demonization of the rich that smacks of hypocrisy."
Cake rating: Three slices out of five. Nothing wrong with a sun-splashed getaway, let alone consoling a friend, but Mrs. Obama's advisers should have known better than to take a posh trip to coastal Spain — hello, envy alert! — in August, which traditionally is the slow, silly season for national news.