For Newt Gingrich, welfare reform is one of the accomplishments the former House speaker touts as proof he's the strongest conservative in the Republican presidential field — calling the effort "the most successful entitlement reform in your lifetime."
But presidential rival Rick Santorum also takes credit for the policy, saying he co-authored the bill, before it became a cornerstone of Mr. Gingrich's historic Contract With America, and then ushered it through the upper chamber as a freshman senator from Pennsylvania, on its way to becoming law in 1996.
"I was the author of the only bill that actually repealed a federal entitlement — welfare reform," the former senator said this month. "I went up against Daniel Patrick Moynihan and Ted Kennedy and battled over two vetoes of President Clinton [and] was able to get it done."
By laying claim to the same thing in different ways, the two Republicans have underscored the ongoing battle between them to become the conservative alternative to former Massachusetts Gov. Mitt Romney in the Republican presidential sweepstakes.
It was a different story a couple of weeks ago, when Mr. Gingrich floated the idea of forming a conservative tag team with Mr. Santorum in an attempt to pile-drive Mr. Romney's chances of winning the party's presidential nod.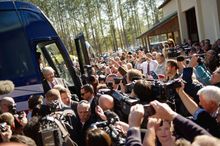 But the idea soon flamed out, and now the two men, both Catholics, are slugging it out for the "anybody-but Romney" title ahead of the critical South Carolina primary on Saturday.
Mr. Santorum won in Iowa and outperformed Mr. Gingrich in New Hampshire, but he trails him in Palmetto State polls. That was clear in the debate Thursday when he opened fire on Mr. Gingrich, criticizing him for selling out conservative principles on health care, illegal immigration, pro-life issues and the Wall Street bailout.
Mr. Santorum's first jab came early in the evening when he suggested that voters should consider Mr. Gingrich's turbulent marital history as part of their political math when they head to the polls. "What we did in our lives are issues of character for people to consider," he said.
Minutes later, he assailed Mr. Gingrich was "playing footsies with the left" when he supported, for more than a decade, the same sort of individual insurance mandate for health care that conservatives have attacked in President Obama's controversial overhaul of the federal system.
"When he goes and says, 'I can, you know, run rings around President Obama in a Lincoln-Douglas debate,' you can't run rings around the fact, Newt, that you supported the primary core basis of what President Obama's put in place," Mr. Santorum said, before pouncing on Mr. Gingrich's counter that he'd simply tell voters that he learned from his mistakes while Mr. Obama didn't.
"It's not going to be the most attractive thing to go out there and say, you know, it took me 10 or 12 years to figure out I was wrong, when guys like Rick Santorum knew it was wrong from the beginning."
By the time the night was over, Mr. Santorum had cast himself as the "solid" conservative and Mr. Gingrich as an egomaniac and a scatterbrained leader — arguing he has a penchant for "grandiosity" and even accusing him of lacking the courage to blow the lid off the congressional check-kiting scandal in the 1990s.
"You knew about it — for 10 or 15 years because you told me you knew about it — and you did nothing," he said to Mr. Gingrich.
Mr. Gingrich said Mr. Santorum was engaging in "selective history." He said he worked to clean up Congress and highlighted the role he played building a GOP majority in Congress.
"Those are just historic facts, even if they're inconvenient for Rick's campaign," he said.