✓ Pick of the Pack
Comedy: Tim Lee
Tim Lee isn't the first stand-up comic to abandon a real job. Ken Jeong, of NBC's "Community" and the "Hangover" movies, was a doctor of internal medicine before he became a stand-up comic; Sam Kinison, famous for his onstage screaming, was a Pentecostal preacher. Like his antecedents, Mr. Lee's stand-up bits borrow heavily from his previous life as a scientist. One of his bits involves diagramming nuclear fission using a PowerPoint projector. After explaining to his audience how adjacent atoms irritating their neighbors causes a chain reaction that leads to a nuclear explosion, the former biologist deadpans that Oakland Raiders fans aren't a whole lot different.
Jan. 6 and 7 at Atlas, 1333 H St. NE
Phone: 202/399-7993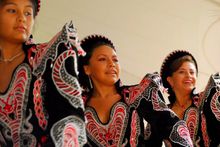 Web: http://atlasarts.org
Festival: Three Kings Day
What the tooth fairy is to American children, the three kings (of biblical fame) are to the children of Puerto Rico. On the eve of the Fiesta de los Reyes Magos, children fill a shoe box with grass - for the Magis' camels, naturally - and place the box under their beds. When they wake up, the box contains a present. This week, the Gala Hispanic Theatre in Columbia Heights will celebrate Fiesta de los Reyes Magos with a parade featuring a performance by dance group Alma Boliviana, live animals (donkeys, goats and sheep, to be exact), and local community activists Roland Roebuck, Jose Sueiro, and Quique Aviles dressed as Balthasar, Gaspar and Melchior.
Jan. 8 at Gala Hispanic Theatre, 3333 14th St. NW
Phone: 202/234-7174
Web: www.galatheatre.org
Exhibit: 'The Beautiful Time'
In the war-torn Democratic Republic of Congo, the personal is always political. This is the lead lesson in the work of Sammy Baloji, a Congolese videographer who documents the violence that has turned his homeland into a nexus of concentrated wealth and dispersed mindless violence. In "The Beautiful Time," Mr. Baloji documents the construction and prosperity of the Congo's copper mines, their nationalization in the 1960s, and their decline under thuggish bureaucrats.
Opens Jan. 7 at the Museum of Natural History, 1400 Constitution Ave. NW
Phone: 202/633-1000