Ten days before Joe Paterno died of lung cancer in January, Penn State's Hall of Fame football coach who preached "success with honor" told a federal grand jury that he knew nothing about inappropriate contact between Jerry Sandusky and boys other than a 2001 incident in a locker room shower.
But emails in former FBI Director Louis J. Freeh's much-anticipated 267-page report of alleged misconduct at Penn State by the longtime assistant coach - released Thursday - tell a starkly different story.
The sordid tale began May 4, 1998, when an 11-year-old boy's mother told the University Police Department that Sandusky showered with her son in the Lasch Football Building on Penn State's campus. Athletic director Tim Curley then emailed Gary Schultz, vice president for business and finance, and university President Graham Spanier the next day regarding the investigation with the subject of "Joe Paterno."
"I have touched base with the coach," Mr. Curley wrote. "Keep us posted."
Eight days later, Mr. Curley wrote to Mr. Schultz: "Anything new in this department? Coach is anxious to know where it stands." "Coach" likely refers to Paterno, according to Mr. Freeh's report. A senior Penn State official, the report says, described Mr. Curley as Paterno's "errand boy."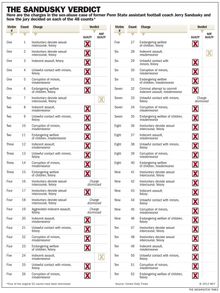 As Penn State police investigated the claim - charges were never brought against Sandusky - handwritten notes from a confidential file that Mr. Schultz kept detailed the progress. One entry described the account of a second boy that matched the first: "Locker room. Wrestling. Kissed on head. Hugging from behind in shower."
"Behavior - at best inappropriate @ worst sexual improprieties," Mr. Schultz wrote. "At min - Poor judgement … Is this the opening of pandora's (sic) box? Other children?"
After the police investigation was closed, Mr. Schultz sent a now-haunting email to Mr. Spanier, Mr. Curley and university Police Chief Thomas Harmon.
"He was a little emotional and expressed concern as to how this might have adversely affected the child," Mr. Schultz wrote of Sandusky on June 9, 1998. "I think the matter has been appropriately investigated and I hope it is now behind us."
The involvement of Paterno and Penn State's high-ranking leadership in the 1998 case casts in a much different light the much-publicized 2001 incident - where Mike McQueary, then a graduate assistant coach, came upon what he believed was Sandusky raping a boy in the Lasch Football Building's showers.
Mr. McQueary told Paterno what he had seen on Feb. 10, 2001, but the coach waited a day to say anything, so as not to interfere with anyone's weekend, the report says. Paterno then relayed Mr. McQueary's concerns to Mr. Curley and Mr. Schultz, who told Mr. Spanier.
Mr. Freeh's eight-month investigation uncovered handwritten notes from Mr. Schultz marked "confidential" that the university official did not mention in two interviews with investigators.
According to those notes, Mr. Curley and Mr. Schultz met Feb. 12, 2001, and " eviewed 1998 history" and "[a]greed [Curley] will discuss w JVP [Paterno] & advise (sic) we think [Curley] should meet w JS [Sandusky] on Friday."
More of Mr. Schultz's notes came from a "2/25/01" meeting, which suggested that Sandusky be told to "avoid bringing children alone into Lasch Bldg." It also advised that the matter be reported to the "Dept of Welfare" and that the chairman of the Board of Second Mile be told - asking "who's the chair??"
Second Mile was a nonprofit organization for underprivileged and at-risk children founded by Sandusky.