MIAMI — By the time Bryce Harper tumbled into foul territory, smacked his face and hip against Steve Lombardozzi and snagged the game's final out, Stephen Strasburg's start seemed as distant as a day without profanity from Miami Marlins manager Ozzie Guillen.
A string of moments, each more bizarre than the one before, turned Strasburg's start Sunday at Marlins Park into an afterthought.
Signs were missed, throws botched, a head-scratching intentional walk issued, Guillen complained in terms not suitable for prime-time television about how high the pine tar was on Harper's bat then called the youngster "unprofessional," and, finally, Washington Nationals closer Tyler Clippard loaded the bases with no outs in the ninth before helping his team escape with a 4-0 win.
Perhaps that a person costumed as Darth Vader, surrounded by five Stormtroopers, threw out the first pitch on Star Wars Day was a fitting start to the afternoon.
But everything started with Strasburg and seven strikeouts over six good-enough innings to leave Nationals manager Davey Johnson beaming.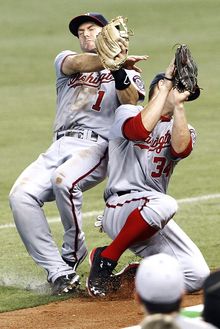 "I wanted to really get back to the things that make me successful," Strasburg said. "Once you establish your fastball, it makes the game a lot easier."
So, the right-hander relied on his fastball. Seventy of Strasburg's 105 pitches were fastballs of the four- and two-seam variety, including one errant pitch that was a whisker away from removing Omar Infante's chin.
"That's the kind of Strasburg that I've known well," Johnson said. "At the end, he was actually even throwing better."
While the Marlins scattered six hits, Strasburg used the fastball to keep his pitch count down and escape a variety of jams.
One of those moments came in the third when mercurial center fielder Roger Bernadina air-mailed a throw to the backstop, his second misdirected throw of the afternoon to accompany a difficult diving catch. Strasburg and catcher Jhonatan Solano scrambled to retrieve the ball, leaving home plate uncovered. On third, pitcher Ricky Nolasco jolted halfway home before retreating when he could've scored easily.
The oddities continued. In the fifth, Guillen intentionally walked Solano, a rookie known for his defense, not his bat, to face Strasburg. The pitcher prides himself on his hitting, entered the game with a .407 on-base percentage and, at one point this season, boasted more doubles than Justin Smoak, the Seattle Mariners' starting first baseman. Strasburg promptly singled home a run.
The next inning, Michael Morse, whose "Beast Mode" doesn't include being fleet of foot, stood on third base. As Bernadina swung and missed, Morse tried to steal home and was easily tagged out. A sign was missed, Johnson said, declining to assign fault.
In the middle of all this, Guillen became upset at the pine tar on Harper's bat. Television cameras caught Guillen spewing invectives describing his feelings about the situation toward Harper, Johnson or both. Harper eventually changed bats.
"It got on the umpire's nerves and it got on my nerves," Johnson said of Guillen. "He was trying to intimidate my player."
Harper, all of 19 years old, downplayed the mini-controversy, insisted, with a straight face, he had no idea why Guillen was yelling, and complimented his passion and managerial ability.