Online retailers are coming under fire from Washington and state governments for not collecting sales tax from customers who purchase goods and services through websites such as Amazon and eBay.
The tax itself is not new. The only difference is that online retailers could soon be required to collect it — just like their traditional bricks-and-mortar peers — instead of trusting customers to pay it on their own to the state, which is a requirement few heed.
The movement to step up the collection of online sales tax is gaining momentum from traditional retail stores that want to level the playing field and, more recently, state governments that are desperate for money.
In the Senate, the Marketplace Fairness Act would allow states to require online retailers to collect sales tax. In the House, the Marketplace Equity Act, which has a hearing next week, would essentially do the same thing.
Both have growing bipartisan support.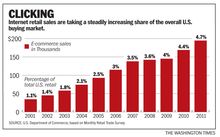 Even before Congress decides whether to give states this power, a growing number of governors are striking deals with online retailers to collect sales tax.
"You have got to make sure a sale is a sale, whether it takes place downtown or online," said Rep. Steve Womack, an Arkansas Republican who is sponsoring the House bill. "If you're going to have a tax assessed for anything, it's bad policy to make it 'optional.' Anytime we have a system where you're basically on the honor code to report taxes, that cannot be healthy."
The problem is most online shoppers don't realize they are required to pay sales tax.
It's a confusing issue that has baffled Mr. Womack, who said he hasn't always paid online sales tax because he didn't realize it was necessary.
"I have not always done that because I didn't understand it as I do now," he said. "But I promise you this: I do now because I'm a member of Congress. I lead by example."
By not collecting the required sales tax, Internet retailers' goods and services often appear cheaper.
"It's becoming a very, very unfair tax," said Rachelle Bernstein, vice president and tax counsel for the National Retail Federation, which represents both online and traditional retailers. "We think it's time to eliminate that disadvantage."
But many of the top Internet retailers are also traditional retailers, such as Staples and Wal-Mart, ranked No. 2 and No. 4, respectively, in online sales.
"The vast majority of the top Internet sellers are brick-and-mortar stores," said Bill McClellan, spokesman for the Electronic Retailing Association. "If they were at any disadvantage online, they would not be doing so well.
"They're saying, 'Well, it's unfair, and we're at a price disadvantage and we're losing all these sales.' Well, if you're losing all those sales and you can't compete, how are you one of the top online retailers?"