Just before 3 p.m. Sunday, after a weekend barrage of rain that accompanied the better part of the Washington Nationals' four-game series against the Atlanta Braves, the sun began to come out over Nationals Park.
It was, while perhaps hackneyed in it's simplicity, a fitting metaphor for the Nationals' weekend. From the brink of losing their grip on first place in the National League East just 24 hours before, the Nationals beat the Braves 9-2 in front of a packed stadium to salvage a split of the series and return to 3½ games up on them in the division standings.
They went from living through the largest blown lead in franchise history to being showered with cheers as they wrapped up a 4-3 homestand.
"We didn't want them to come into our house and leaving feeling that good," said Nationals manager Davey Johnson. "I gave them the one Friday. They nipped us on Saturday morning, but I wasn't worried about the club. There is no letdown on this ballclub.
"I think if I was them I'd feel deflated because you want to pick up some ground when you're playing good. It's just a grind. Sometimes just to split is like picking up ground, it's like maintaining your momentum."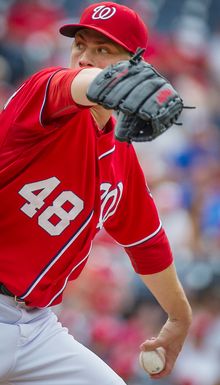 For the Nationals, this was one of those times.
On a day in which they rapped out 18 hits — a record inside Nationals Park — saw their cornerstone third baseman club two home runs and got a second consecutive sterling pitching performance from Ross Detwiler, heading to New York with a split against the Braves that felt more like a series victory.
"To be down [the first] two games in a four-game series, come back and win the last two and kind of stay where you're at as far as the division, it's a good feeling for us," said Danny Espinosa, who was 3 for 4 to continue his offensive surge.
"It's a tough challenge right there. We don't give up, but it's tough not to almost fold. We just played well and continued to battle, and we got our last two wins."
Every member of the Nationals' starting lineup got a hit, five had multihit games and four registered three-hit afternoons.
But none was with as much fanfare as Ryan Zimmerman, who picked up the 10th multihomer game of his career when he sent one to right field in his first at-bat and cranked another to left in his second. Since receiving a cortisone shot in his right shoulder June 24, Zimmerman is hitting .392 with nine doubles, 11 home runs and 28 RBI.
"He is swinging the bat so good it's scary," Johnson said. "You feel like every time up there he's going to hit a rocket. As tired as we were, offense getting 18 hits, scoring nine runs, that's a pretty good [Braves] pitching staff. That says something."
Detwiler (5-3), coming off his best start of the season and following a superb outing by John Lannan on Saturday night, was touched for two runs in seven innings, one earned.
He pounded the strike zone, going to a three-ball count only five times, and worked quickly. He used his curveball with significant efficiency but was relentless with his fastball and saved a beleaguered bullpen.
When he walked off the field following the seventh inning, he shook Johnson's hand and then gave his manager a pat on the back.