It's the Muppets and the mayor of Boston against an ex-governor of Arkansas, as comments by a top executive of the Chick-fil-A fast-food chain in defense of Christian values and traditional marriage are cooking up a healthy side order of controversy.
And it may even be helping some conservatives, though it also has provoked a gay kissing event.
Chick-fil-A President Dan Cathy sparked a national backlash last week in an interview in the Baptist Press affirming the family-owned private company's support for traditional marriage, even though the top executives' personal beliefs do not affect customers or employee relations — save for the chain's signature practice of not opening on Sundays.
"We know that it might not be popular with everyone, but thank the Lord, we live in a country where we can share our values and operate on biblical principles," Mr. Cathy said.
The reaction — and counterreaction — have not been slow in coming.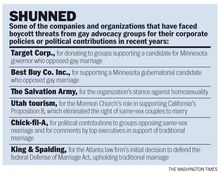 Gay bloggers slammed the remarks and called for boycotts and Boston Mayor Thomas Menino said the restaurant chain is not welcome in his city. Jim Henson Co., which owns the Muppets, announced that it was ending a long-standing business relationship with Chick-fil-A, where it supplied the Atlanta-based restaurant with toys for its children's meals.
"The Jim Henson Company has celebrated and embraced diversity and inclusiveness for over fifty years and we have notified Chick-fil-A that we do not wish to partner with them on any future endeavors," the company said on Facebook. The company instead will donate money it received from the restaurant to the Gay and Lesbian Alliance Against Defamation.
Former Gov. Mike Huckabee of Arkansas, who finished second in the Republican presidential-nomination race in 2008, was one of a number of figures and pundits who leapt to the company's defense.
Mr. Huckabee, an ordained Southern Baptist minister who now has a talk show on Fox News Channel, said he was organizing a "Chick-fil-A Appreciation Day" on Aug. 1 to encourage supporters to patronize the chain's restaurants in the face of the boycott.
"The goal is simple," Mr. Huckabee wrote on his Facebook page. "Let's affirm a business that operates on Christian principles and whose executives are willing to take a stand for the godly values we espouse by simply showing up and eating at Chick-fil-A."
Two days after that, there will be another kind of event, as "National Same-Sex Kiss Day" organizers plan to smooch at Chick-fil-A's across the country Aug. 3.
The restaurant controversy has led some critics to wonder whether there is any upside to company executives serving a broad swath of the public to engage in heated political controversies.
Two big retailers, Target Corp. and Best Buy Co. Inc., found themselves the target of gay activist groups after offering political support to a gubernatorial candidate in Minnesota who opposed making gay marriage legal in the state.
"Companies have woken up to the realization that it is a smarter business decision to be inclusive, rather than discriminatory," said Justin Nelson, founder and president of the National Gay & Lesbian Chamber of Commerce. "The overwhelming choice is that people start to gravitate away from companies that have explicit and express discriminatory policies. It's not accepted any more, and it's not acceptable."
Chick-fil-A says it does not discriminate against customers and follows all laws on employment discrimination. Mr. Nelson did not accuse Chick-fil-A of this, and gay-rights activists generally don't do so, though they do argue that speaking out for the traditional definition of marriage is in itself bigotry.