In October 2009, LaShawn Merritt walked into a 7-Eleven a few minutes from his home in Suffolk, Va., after an evening at a nightclub. He paid cash for a box of condoms and had the clerk add a packet of four blue pills behind the counter called ExtenZe.
In red capital letters, the packet shouted "LARGER" and "size, pleasure, performance." The male enhancement pills, with "Doctor approved" written in the corner, cost $6.
Merritt had seen late-night commercials for the product ("Go long with ExtenZe," retired football coach Jimmy Johnson urged in one), according to an arbitration panel's report, and hoped to experience the claimed benefits with the woman he was dating.
"I spent $6," Merritt said, "and it cost me millions of dollars."
The decision that nearly kept Merritt from the London Olympics, drained his finances and almost destroyed his opportunity to challenge Michael Johnson's world record in the 400 meters came in a flash, like the blur on the home video Merritt's mother, Brenda Stukes, took when he was in second grade. In the video, Merritt zipped around a family dinner asking folks, including older brother Antwan, if they wanted to race. Merritt didn't realize he was acting out his future career.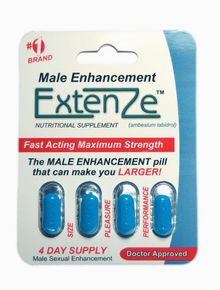 Fourteen months had passed since Merritt blew past heavy favorite Jeremy Wariner to win the 400 at the Beijing Olympics with the fifth-best time in history. Merritt recently returned from a cruise. Training was over. The man who wants to be normal but whose legs won't allow that hoped for a break.
If Merritt had checked the back of the packet, where the 39 ingredients include horny goat weed and velvet deer antler, he would've noticed 50 mg of dehydroepiandrosterone (better known as DHEA), a notorious anabolic steroid, and 10 mg of pregnenolone, another steroid, resided in each blue pill. Both lurk in the World Anti-Doping Association's nine-page alphabet soup of banned substances.
"He was not thinking about track," the 50-page arbitration report said. "His mindset when purchasing the product was thinking about having sex with a woman."
Over the next six months, Merritt made similar purchases as often as twice each month at 7-Eleven. Merritt's routine, according to store clerk Leslie James' testimony in the panel's report, was to buy a bottle of jungle juice and lottery ticket, step outside, then return for condoms and ExtenZe. But on March 22, 2010, Merritt was stunned to learn he failed three drug tests in the previous six months. At first, Merritt believed acne medication was the culprit, but the DHEA was revealed, Merritt finally looked at an ExtenZe label and, soon after, his name was inextricably linked to "doping" and "male enhancement." He had never failed a drug test before.
Merritt was suspended 24 months. Nike stopped his endorsement contract. He was prohibited from receiving U.S. Olympic Committee grants or using its training centers. And Rule 45 of the International Olympic Committee's charter, adjusted in 2008, made any athlete suspended more than six months for doping ineligible for the next Olympics.
Doug Logan, then USA Track and Field's chief executive officer, excoriated Merritt in a news release after the suspension was announced: "He has now put his entire career under a cloud and in the process made himself the object of jokes. … Personally, I am disgusted by this entire episode." Logan never spoke to Merritt.
Frustration and humiliation bubbled over. Labelled a drug cheat, Merritt felt helpless. How could a late-night purchase at 7-Eleven transform his career into a punchline?
Then Merritt thought about resting in his misery. Thought about moving forward. Thought about Antwan.
…
Before each race, Merritt kisses two fingers, then points them at the sky. He says a quick prayer: Give me strength. Somewhere, Antwan is watching and hears each prayer, Merritt believes. Not once did Antwan get to watch Merritt compete on the track. So, each race, Merritt runs for both of them.