The Revolutionary War has its own national holiday. World War II has spawned countless books and movies. The Civil War boasts costumed re-enactors and a signature chess set.
And the War of 1812? It has re-enactors, too. The country can't get enough of them. The country of Canada, that is. "The demand for them right now is so great that it's actually driving up the price," said John Stagg, a University of Virginia history professor and author of "The War of 1812: Conflict for a Continent." "They may even have to resort to the desperate tactic of importing a few from the United States.
"The situation is different in Canada. They take the war very seriously in a way that Americans don't."
Currently enjoying its bicentennial — What, you haven't pre-ordered the Postal Service's forthcoming commemorative stamp? — the War of 1812 occupies a musty, forgotten junk drawer in America's collective cultural consciousness, stuffed somewhere between the liberation of Grenada and the time Will Smith punched that extraterrestrial fighter pilot in the face.
No memorial on the Mall.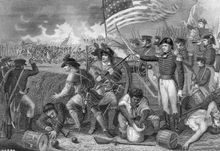 No memorial, buy-one, get-one-free mattress sales.
The only war in the history of the United States referred to by its year.
The only war in the history of the United States in which — yes, really — Canada won.
A three-year, continent-spanning conflict against the British Empire that gave us Dolley Madison (the heroic first lady, not the snack cakes), the Capitol rotunda (built after a humiliating defeat, but still), the Kentucky Rifle (overrated, according to historians), the 1959 song "The Battle of New Orleans" (less accurate than a Kentucky Rifle, according to historians) and the "Star-Spangled Banner" (ironically sung to the tune of an old English drinking song — whatever), and yet is lucky to receive more than a few throwaway paragraphs in the average American history textbook.
"I think it's more like two sentences," said Stephen Budiansky, author of "Perilous Fight: America's Intrepid War with Britain on the High Seas, 1812-1815."
"The War of 1812 has gotten no respect over the years."
Dissed and dismissed
Don Hickey concurs. The nation's pre-eminent War of 1812 historian, he began a lifelong love affair with the topic as a University of Illinois student in the late 1960s, writing his senior honors thesis on New England's opposition to the conflict.
(Fun fact: Massachusetts, Connecticut and Rhode Island refused to lend their state militias to the federal war effort, and a number of New England congressmen who voted for the war were subsequently booted from office. In other words, the War of 1812 was unpopular before it even started.)
"It turned out to be a real academic backwater, along with the entire early national period," said Mr. Hickey, a history professor at Wayne State University in Detroit and the author of "The War of 1812: A Forgotten Conflict, Bicentennial Edition.""It was tough to find a university job."