When the uprising erupted in Libya last year, Adam Sbati closed his schoolbooks and left the secure campus of George Mason University in Fairfax County to rush to his parents' homeland and join ragtag rebels fighting Moammar Gadhafi.
This week, the 23-year-old Libyan-American made the transition from bullets to the ballot box when he was the first to vote at a specially established polling station in an Arlington County hotel in Libya's first multiparty national elections in more than four decades.
"This time last year, we really didn't think that we would get this far. So just getting to this point is amazing and historic," said Mr. Sbati, who was born in Falls Church, where his parents settled after fleeing the brutal Gadhafi regime.
In Libya, voters will go to the polls Saturday to pick a 200-member General National Congress from 3,707 candidates. The congress will appoint a prime minister and select a panel to draft a constitution.
In the United States, Libyan-Americans have been traveling to the Holiday Inn in Arlington since Tuesday to cast ballots at the only U.S. polling place established by a transitional Libyan government. The voting there will continue through Saturday.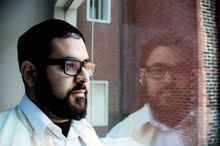 Like Mr. Sbati's parents, many of the Libyan-Americans escaped from Gadhafi's dictatorship, and most never dreamed they would witness this moment in their lifetimes.
Some clung to hope
"My dream has come true," said a beaming Abdul Shetewi, dressed in traditional garb. He traveled from Atlanta to be among the first to vote Tuesday.
Teffaha Abeidi, who moved to the United States 32 years ago and lives in Fairfax, broke into a spontaneous ululation as she cast her ballot.
"I'm so excited, my legs are still shaking," she said.
The large slate of candidates made the choice tough for most voters, but not for Ms. Abeidi.
"My choice was easy. I voted for my husband," she said with a laugh. Her husband is a candidate in Benghazi.
Libyan-American volunteers manning the polling station were barely able to contain their excitement at being part of a historic event.
"We have been waiting for this moment for decades," said Ali Alghonas of Cincinnati, a manager at the polling station.
The election is also emotional for former representatives of the regime who defected once the revolution broke out.