ATHENS — Parties supporting Greece's financial-bailout package seized victory Sunday in parliamentary elections that had been widely seen as crucial to the country's — and the eurozone's — future, as well as the well-being of the global economy.
But the coalition of conservative and liberal lawmakers likely to result from the elections still leaves much uncertainty to deal with politically, if not economically, analysts said.
The global economy hung in the balance as Greeks voted to either accept the austere terms of their $140 billion bailout or default on their debt and bolt from the 17-nation eurozone. Greece was forced to hold its second national election in as many months because officials who were elected in the May 6 balloting could not form a coalition government.
With almost all votes counted Monday morning, the center-right, pro-bailout party New Democracy had taken 29.6 percent of the vote, ahead of leftist party Syriza, which campaigned against the austerity measures and garnered 26.9 percent.
That will give New Democracy 129 seats in the 300-member parliament and a chance to form a coalition government with its historic rival — center-left party Pasok, which came in third with 12.3 percent and 33 seats. Syriza won 71 seats.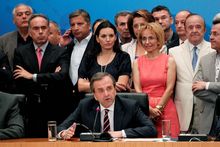 But analysts said that a New Democracy-Pasok coalition would be an uneasy alliance, even though both parties campaigned on working with other eurozone nations to help Greece through its financial woes.
"We will have previous warring parties Pasok and New Democracy having to go into bed with each other with many deep animosities," said Kevin Featherstone, director of contemporary Greek studies at the London School of Economics.
"At the same time, an ascendant Syriza would be in an ideal position to act as the platform for all possible protests against the austerity measures and difficult reforms that a pro-Europe government would have to take."
'Stable and viable'
Syriza traditionally has been seen as a ragtag alliance of fringe leftist and environmentalist parties, but it shot to the forefront of Greek politics last month as it campaigned on an anti-austerity platform.
The party has promised to renegotiate the 2010 bailout agreement with Europe, nationalize banks and reverse pension and public-sector job cuts.
That message has appealed to many voters in Greece, where wages and pensions have been slashed, the health care system has collapsed and unemployment has skyrocketed.
"I believe that we, with Syriza, [have] hope of less austerity measures," said Georgia Vorila, 30, from Athens, who voted for the leftist party Sunday.
On May 6, New Democracy, led by Antonis Samaras, came out marginally ahead of Syriza, but neither party was able to form a government.
Analysts say the consequences could be dire if coalition talks fail this time.