Passing the bar isn't the meal ticket it used to be.
Once the surest path to a six-figure salary and a life of luxury, a law degree in the aftermath of the Great Recession comes with far fewer guarantees, leaving many graduates with mountains of debt while confronted by a rapidly changing legal landscape.
"It was a wonderful life. And now it's gone," said Andrew Morriss, a professor at the University of Alabama's School of Law and research fellow at New York University's Center for Labor and Employment Law.
"The financial crisis reshaped the legal industry. … Big firms stopped hiring more people," he said. "It's a permanent change. Clients have discovered they can pay less for legal services, and firms have discovered they don't need to have scores of associates working there."
Troubling trends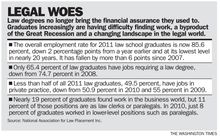 About 85.6 percent of 2011 law school graduates have jobs, the lowest percentage in nearly 20 years. That number has dropped 2 percentage points since 2010 and more than 6 points since 2007, according to data from the National Association for Law Placement Inc.
Less than 65 percent of law school graduates hold positions requiring a legal degree, down from nearly 75 percent four years ago. Less than half of the 2011 class have jobs in the private sector, the association reported.
Cash-strapped potential clients, Mr. Morriss said, now shop around for lower prices among competing lawyers, or opt for inexpensive online law services such as those offered by legalzoom.com. That development has left some multimillion-dollar firms on shaky financial footing.
The legal world was rocked last month when Dewey and LeBoeuf LLP, one of the world's richest and most well-known law offices with operations in a dozen countries, filed for bankruptcy. Many analysts attribute the biggest law firm collapse in U.S. history to Dewey's massive debt — estimated at more than $300 million — to a variety of creditors, including more than $200 million owed to banks.
Partners began leaving the firm as Dewey's financial condition worsened, taking wealthy clients with them and sticking the company with tens of millions of dollars in guaranteed salaries and benefits packages without the work to pay for it all.
While Dewey and LeBoeuf filed for bankruptcy, most law schools continued to recruit by boasting of their pristine placement rates, all but guaranteeing students that they will find work after graduation.
Suing their schools
For some graduates, reality has disproved those promises.
New York City lawyer David Anziska is now leading a class-action lawsuit against nearly two dozen law schools, claiming they misled recruits about their employment prospects. As the National Association for Law Placement data demonstrate, it's harder than ever for law school graduates to find jobs, and Mr. Anziska and others argue that institutions simply haven't told students the truth.
"We want to sue as many schools as possible," he told the American Bar Association Journal in a recent interview. "It's very important for us for this to go global, to scale up. We feel that this practice [of guaranteeing graduates they'll find work] has been a dirty secret for a very long time."