The Ten Commandments and the Golden Rule apparently weren't clear enough.
The National Association of Evangelicals, seeking to give more guidance to church and congregational leaders on how to conduct themselves, has issued what is believed to be the first "code of ethics" for pastors.
Pastors are encouraged to pursue integrity, be trustworthy, seek purity, embrace accountability and facilitate fairness. The document, the product of an 18-month effort by a committee of religious leaders and scholars, lists ways in which basic ethical principles can be applied in a modern setting, and which all pastors should be expected to follow.
"The Bible is a long document," said National Association of Evangelicals President Leith Anderson, senior pastor of Wooddale Church in Eden Prairie, Minn. "The principles here are biblical, but they are also relevant to our time and culture. That type of specificity just isn't in the Bible."
The association drafted the code after a series of highly publicized lapses involving local religious figures. In 2010 alone, five pastors came under public scrutiny for cases of extramarital affairs, sexual assault and financial fraud.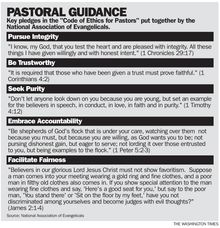 In December of that year — one month before the association began work on the code — Indiana pastor Vaughn Reeves was sentenced to 54 years in prison after stealing roughly $6 million from investors in a church construction scheme.
"The fact that a person has a degree from a theology school is no guarantee of wisdom," said Luder Whitlock, chairman of the 13-member committee that drafted the code and is a past president of the Reformed Theological Seminary network.
The national association includes more than 45,000 churches and 40 denominations, and officials expect most of the membership to sign in support of the code. The organization's website shows only a couple of dozen pastors who have signed since its formal release June 13, but Mr. Anderson said a few hundred member churches agreed to support the code before its release.
Among the early signers are some of the biggest names in the evangelical movement, including Rick Warren, pastor of Southern California's Saddleback Church, and Bill Hybels, pastor of the huge Willow Creek Community Church outside Chicago.
There are English- and Spanish-language versions of the code, which covers topics such as sexual conduct, financial management and health.
Mr. Anderson said that the pastoral code of ethics did not spring from any specific instance of misconduct. Even so, he said, there is a need for a uniform policy that ties all pastors to a single professional standard.
He said that while some individual churches already have endorsed a similar code of ethics, 71 percent of churches do not.
Moreover, some pastors have chosen to support the code precisely because it serves, at least indirectly, as a rebuke to religious leaders involved in unethical episodes.
"There's a need that we're reminded of when we see pastors living unethical lives," said Joel Hunter, a Florida pastor who was one of the first to sign the code of ethics. "We want to raise the level of accountability because apparently some pastors believe they're a law unto themselves.