Bo Van Pelt's only victory in 309 PGA Tour events was almost three years ago on the same weekend as the 138th Open Championship. His moment of glory did not occur at Turnberry in Scotland, though. And, as a matter of fact, he still is the defending champion of the U.S. Bank Championship in Milwaukee. The tournament shut down operation after he won it.
The world's best players did not compete against Van Pelt during those four days, and perhaps Wisconsin is not as majestic as the Firth of Clyde's eastern shore. But the victory did highlight his breakout season on tour.
His fine form generally has continued since, and Thursday he took a step toward his second victory. Van Pelt shot a bogey-free 67 on Congressional Country Club's Blue Course in Bethesda to lead the AT&T National at 4 under par after the first round.
"I've always liked the golf course," Van Pelt said. "I think the first time I played here was the British Open qualifier in '04 and made it through, and I think I was successful both times I made it through here. I just like the golf course."
Three-time major champion Vijay Singh finished one shot back, as did Virginia Tech product Brendon de Jonge and tour veteran Jimmy Walker.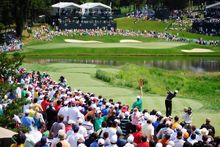 Players this week have described difficult course conditions more suited to a U.S. Open than last year's, when Congressional hosted the major in mid-June. However, 22 golfers bested par Thursday, one more than in the first round of last year's U.S. Open.
"Not a lot of low scores on this golf course, especially this afternoon," tournament host Tiger Woods said after finishing his afternoon round 1 over. "It was baked out, the ball was springy, and it's hard to believe that 4 under par is leading."
It is, though, because of Van Pelt's handiwork. He holed out from 93 yards to eagle the par-4 first, his 10th hole of the round after starting on the back nine.
Van Pelt extensively practiced wedge shots on the driving range before his round, so he felt confident in the first fairway.
"I actually thought it had kind of spun back in front of the hole, and all of a sudden this guy behind the green started going nuts," he said.
Singh's fast start in the morning established some star power on the leader board. Look at his recent history, though, and you realize his star has faded. The top-ranked player in the world in 2005 hasn't won on tour since 2008. Van Pelt, in one fewer event this year, has earned more than double the amount of money Singh has.
"Any time I shoot under par right now is good," Singh said. "I've been playing well for the last month or so, but nothing is coming out of it. Today I made a few putts."
Van Pelt did, too. His 24 putts Thursday tied for fewest in the field.
He has used a mallet-style putter since last fall. It's the longest he has stayed with one style of putter since he was a boy and had only one to choose from, he said.
Van Pelt, 37, had five top-10 finishes in 2009 and 2011, and eight in 2010. Consistency on the greens is at the core of another fine season. He has finished in the top 10 five times already this year.