Edgar Rice Burroughs' legendary pulp novel and pop-art hero came to the silver screen a few short months ago only to be beaten up by critics and greeted with near indifference by movie audiences.
The debut of John Carter (Walt Disney Home Entertainment, rated PG-13, $39.99) in the Blu-ray format allows viewers a much more interactive way to appreciate a science-fantasy adventure that does feature some spectacular visuals.
The film stars Taylor Kitsch (memorable as Gambit in "X-Men Origins: Wolverine") as a former Confederate captain mysteriously transported to Mars (named Barsoom by the natives) and caught up in a struggle for the planet.
Our barely clothed warrior bounces around the landscapes like a steroid-fueled Mexican jumping bean and gets abused by green and red Martians while saving a princess in distress.
A plodding narrative directed by Academy Award-winning director Andrew Stanton clocks in at more than two hours and will exhaust the action movie fan as he waits for some of those eye-popping special effects moments.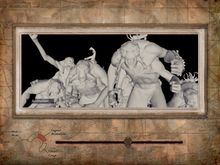 Despite enjoyable performances from CGI characters such as Tars Tarkas (a green, four-armed Thark with horns), a doglike pet called the Woola with the charm of the Fantastic Four's Lockjaw, and a pair of monstrous white gorillas, the movie reminded me of the befuddling cinematic adaptation of "Dune" (although nothing in "John Carter" was ever that complex) combined with the 1980s version of "Flash Gordon" (it had the corny dialogue, but none of the campy humor).
Best extra: Multitasking Martian lovers wielding an iPad get a free multimedia treat with help from Disney's downloadable Second Screen app.
Meant for watching with the movie — although it's also enjoyable as a stand-alone resource — the presentation on Apple's mobile tablet features a timeline navigation system that follows the action and automatically pops up such resources as a storyboard gallery, production notes (zoom in to read them), film trivia, actor bios, color photographs, deleted scenes, 360-degree views of characters, visual effects shot breakdowns and animation tests.
It is an ever-flowing collection of content that can manually sync at any time with the film or move the on-screen action to match the timeline.
Simply pause the movie (using a tap on the iPad) to focus on the iPad and appreciate such nuggets as a visual effects comparison of Warhoons on a rampage. Tap on three icons to see the progress of computer-animated designs and use a slider to watch the snippet of a scene come to life.
Furthermore, look for a glowing medallion occasionally hanging out in the corner of the screen to access John Carter's journal.
This second level of information is also a separate interface, embellished with the musical score, and takes viewers to a map with hot spots tied to entries beautifully illustrated on parchment pages.
Icon links for each of the 16 topics are available on the pages and loaded with written explanations and more images.
For example, check out the Tharks or the green nomads of Barsoom. Viewers can use a slider to watch a Thark hatchling and learn about weapons, females and Thoats (the bulls of Barsoom).
The most marvelous part of the journal experience is Taylor Kitsch's narration (reading passages from the original "A Princess From Mars" novel) as he describes characters such as the Woola and Princess Dejah Thoris or the Ruined City.