The Obama administration is withholding medical and other benefits from same-sex spouses of military members, but Attorney General Eric H. Holder Jr. says he can no longer defend the law that authorizes the practice.
Conservatives are charging that Mr. Holder is going back on Pentagon promises to adhere to the 1996 Defense of Marriage Act (DOMA) in the September repeal of the ban on open gays in the military.
Military promises to enforce DOMA, which defines marriage as the union of one man and one woman, induced some fence-sitting members of Congress to support the administration's push to repeal the ban: The Pentagon would not recognize same-sex marriages, thus would not extend an array of military benefits to same-sex spouses.
However, Mr. Holder's Justice Department stopped defending DOMA in court challenges in February 2011.
What's more, the attorney general last month sided with gay-rights activists in a lawsuit against Defense Secretary Leon E. Panetta demanding benefits for spouses of legally married gay service members.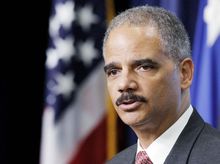 Elaine Donnelly, who runs the Center for Military Readiness, sees the action as a calculated bait-and-switch.
"Congress voted for [a lesbian, gay, bisexual, transgender] law that [Defense Department] officials successfully disguised with fake promises before the lame-duck vote," Mrs. Donnelly said.
"Had there been sufficient time to challenge contradictions in their testimony, the 1993 [ban] still would be in place. But [President] Obama would have failed to deliver on his promises to LGBT activist groups. That's what it's all about, then and now."
Benefits fight
Robert Maginnis, an analyst with the Family Research Council, said Mr. Holder's abandonment of DOMA, as it applies to the military, sends the wrong signal to "our all-volunteer armed forces of mostly conservative Americans."
"Our troops mostly come from middle America, where marriage is between a man and a woman," said Mr. Maginnis, a retired Army officer. "Mr. Obama's failure to defend traditional marriage in the ranks may please his leftist friends at Harvard or Columbia, but it will disgust the core of our military and their families.
"It is past time for the elected commander-in-chief to abandon his radical agenda and treat our armed forces with the dignity they deserve."
Lawmakers in eight states and the District of Columbia have approved issuing marriage licenses to same-sex couples, creating the situation of legally married military gays whose spouses cannot receive medical, dental and other benefits.
With the repeal of the ban, the new legal battle about gays in the military centers on the array of benefits afforded heterosexual married couples.
Gay-rights activists stepped up the battle in October when a group of gay veterans and active-duty personnel sued Mr. Panetta, claiming discrimination. They want the same benefits of straight couples: medical and dental care, housing and transportation allowances, military identification cards, survivor benefits and the right to be buried together in military cemeteries.